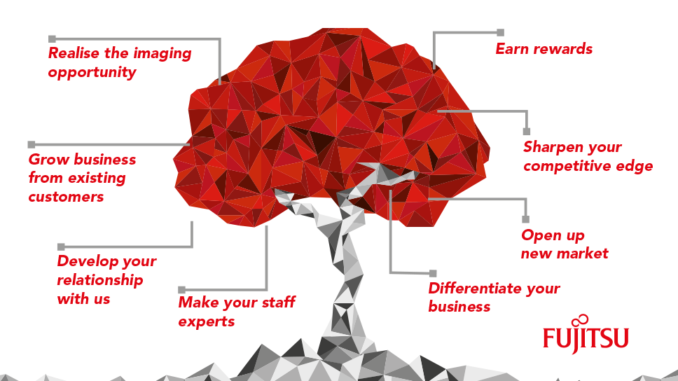 Sponsored blog
As leaders in the imaging market, Fujitsu identify the business trends and industry drivers that create new opportunities for their partners.
By joining the Imaging Channel Program, you will gain the insight, expertise and access to resources you need to embrace today's new market dynamics and capitalise on the resulting business opportunities.
Communications
From advanced notification of product news, promotions and hosted events, you'll not just be in the know, but also the first to know – giving you the insights to stay ahead of your competition.
Sales and marketing support
As well as exclusive access to Fujitsu's special promotions and our sales lead pipeline, you'll get practical support that includes Fujitsu Specialist logos, funded case-studies, co-marketing agreements and MDF – all designed to strengthen your sales.
Commercial Support
Fujitsu's commercial support is designed to open up new business opportunities – it includes use of their business facilities plus access to their evaluation program, their not for resale program and their supported pricing program.
Training and education
Keeping you in the loop and ahead in your field, Fujitsu provide you with exclusive content, co-brandable marketing assets, scanner configurators, training modules on their ranges and positioning, informative and helpful webinars, partner conferences and knowledge-share events.
Business support
From a dedicated Fujitsu Account Manager assigned to your business, to expert presales and bid support, Fujitsu equip you with the resources you need to achieve business growth.
Imaging rewards
Participating in Fujitsu's Imaging Rewards scheme gives you the ability to turn sales and commitment into the rewards you really want. For more information, visit www.imaging-channel-program.com.
Rewards include:
• The latest electronics – such as TVs, tablets and headphones
• Luxury holidays – such as trips to the Maldives and European getaways
• Exciting or relaxing experiences – such as white water rafting & massages
• Fashionable accessories – such as smartwatches and the latest handbags
How do I get rewards?
You can build towards the rewards of your choice in a number of ways:
• Logging sales of Fujitsu Imaging products
• Participating in Fujitsu activities and events
• Certifying in any of our 4 specialist areas
• Plus a range of other product line promotions, incentives and special points giveaways
• A welcome bonus of 1,000 points for registering
• Referring other colleagues and partners to sign up
• Download our APP