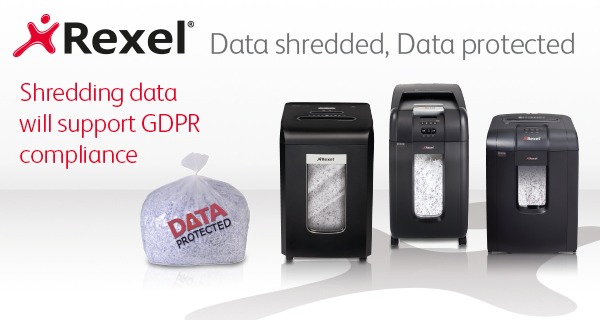 As the deadline for GDPR compliance draws closer organisations of all sizes will need to invest in new products and services to protect data and information. Austin Clark looks at potential product opportunities open to dealers
As the May 2018 deadline for General Data Protection Regulation (GDPR) compliance draws closer, organisations of all sizes will be investing in the products, services and solutions they'll need to meet the new rules. While much as been written about IT installations, and the need to ensure tech infrastructure provides the necessary protection, there are numerous products in a dealer's catalogue that can be sold to help protect data and information.
"With the GDPR compliance deadline imminent it's essential that organisations meet the new legal obligations. In order to limit the risk of data leaks it is imperative that businesses have in place a clear shredding and document management policy for employees to follow," says Chris Gaskell, senior director, brand marketing, ACCO Brands EMEA.
"Rexel auto-feed shredders represent a fantastic opportunity for dealers as this technology provides many impressive advantages to business users. Auto-feed machines offer a new way of shredding to your customers – a method that is fast, good value for money and which handles sensitive data securely."
Chris adds that there is also a business case for introducing auto-feed shredders. "Hands free auto-feed machines allow users to spend up to 98% less time shredding than with a traditional shredder, according to independent testing by Intertek. Micro-cut models can reduce one sheet of A4 into over 2,000 pieces and offer PIN locking capabilities as well as the ability to shred bankcards and CDs. Again, using the Intertek research as an example, destroying up to 750 sheets at once, auto-feed costs just £0.002 per sheet – which is 86% less than a traditional, manual feed shredder."
It's also worth pointing out that GDPR rules stipulate requirements for visual security as well as paper-based security and it's worth remembering that shredders are also important in all organisations when it comes to protecting sensitive data.
Main messages
When it comes to selling dealers can focus on the hefty financial punishments that are underpinning the regulations – and remind end-users that the regulations extend beyond digital breaches.
"With many organisations focusing on digital breaches office product resellers have an opportunity to remind their customers about the importance of also protecting paper security," Chris says. "Although there has been a significant drive towards the 'paperless office' a 2016 report by Epson pointed out that 83% of European businesses claim it's an unrealistic goal given the large amount of essential documents still printed in a number of professions.
"Employees regularly print documents that include personal and financial data which are often left lying around the office for others to find. Rexel's machines are the ideal solution for business clients who want to take an active role in preventing data breaches from occurring.
"The productivity-boosting machines also allow companies to stay in control of their shredding instead of relying on an external shredding service, meaning that managers can rest assured that confidential files are not at risk of falling into the wrong hands. An office with three shredders could save up to £18,400 in employee productivity terms over the lifetime of its machines by switching from manual to auto-feed."
The likes of Acco are all busy preparing guidance that will help dealers maximise GDPR-related opportunities. VOW has also been busy preparing its teams in readiness for the expected increased demand for relevant products caused by GDPR. In order to support dealers the wholesaler has:
Ensured all internal sales teams have received training so that they are in a position to advise customers of the correct procedures and products.
Written an article all about getting ready for the GDPR and made this available to VOW dealers through the VOW to Guide. An eShot entitled 'Your 5 Step Guide to the GDPR' was also sent out to raise awareness amongst VOW dealers and lists the products they need to sell.
Protecting digital data is important, but so too is information held on paper. Dealers are well-placed to remind organisations of this fact – and to profit from it too.
For more information on Acco's GDPR-related products click here.