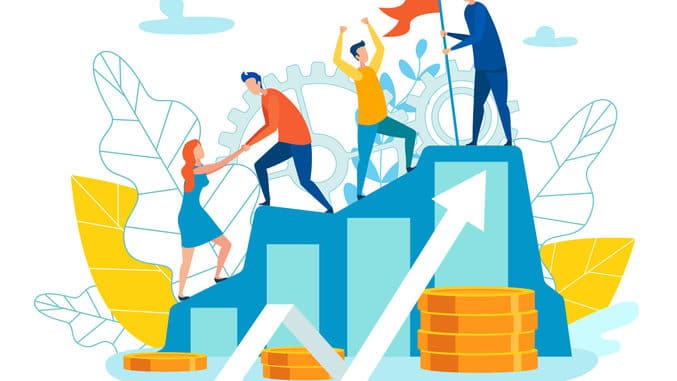 Alister Hall has had a very successful year. After partnering his business, Go2 Ltd, with Office Power – and that was down to listening to customers – he made sure he didn't get pigeonholed as 'just an office supplies company'.
Fostering close partnership-like relationships with customers has been at the heart of what Alister has done throughout his professional life, and it is a philosophy that has brought him success for 25 years, whether as a telesales agent or running his own business.
Currently, he runs product supplier Go2 Ltd, a new name in the industry, but one that has made significant progress this year thanks, in part, to developing good relationships with customers. It has been like that since Alister started out in the industry as an 18-year-old telesales agent for a dealer. "That was all via the 'phone using the Spicers catalogue, a record card box and an ashtray on the desk," he laughs. "I really enjoyed that. I have always enjoyed talking to people in a consultative, friendly way, rather than having that supplier-customer relationship, and seeing it as more of a partnership. I have always been into the partnership element."
After success in that role, Alister moved up to managing a telesales team, along with his own roster of premier clients. This later developed into a field role, which again he took to easily. "It was natural for me to sit in front of people and talk to them."
However, despite the dealer being successful, and developing significantly during Alister's time there, by 2014, he felt he had plateaued. "I wanted the opportunity to work for myself rather than for others," he says. "I was coming up to 40; I was a director, and in a good position, but I considered that in five, 10 or 15 years' time there was no possibility they were going to give me a share of the company. I would just be expiring, and not having anything to show for the years I had put in."
Taking the gamble
So Alister decided to take the gamble and strike out on his own – and really did put his money where his mouth is. "The first thing I did was to rent out my house, to take the pressure off myself financially, and rented a smaller property," he says. "It meant I maintained a surplus income that gave me the freedom of not having the pressure of having to replace my salary with immediate effect.
"I effectively gambled on my own ability to replace that salary with a view to moving back into the property I had rented out as soon as was viable."
In the beginning, Alister joined a couple of old schoolfriends who supplied cleaning and janitorial products. He set up his supply chain through an office dealer services provider and started selling under the name New Office. Initially, he was successful but, before long, he became frustrated with the arrangement, feeling that it was not set up to support sole traders effectively.
This frustration has morphed into another move – this time into a partnership with Office Power. "I have access to all their tools, suppliers, support, credit control, marketing, invoicing and scale," he explains. "Any invoice we raise, I get paid on, even though there is a slight elevation, percentage-wise, in terms of fees compared to my previous arrangement. The cost of the products in my basket is cheaper, so my cash margin is higher. It also means I can cash flow forecast because I know what I will get at the end of the month. I know there is money coming in, and this has enabled me to get back to doing what I am really good at."
Name change
Alister rebranded his company as Go2 – so called because his customers think of him as the 'go-to' person for supplies. The name change was also designed to avoid the company being thought of as 'just an office products supplier'.
"I used to get pigeonholed because of the New Office name; a lot of companies in the industry make the client feel like they are dealing with an office furniture supplier OR an IT supplier OR a stationery supplier – and so they miss out on other projects. I thought, if I have a neutral brand, we can be like a chameleon and flex towards what the clients want us to be, rather than trying to change their perception all the time."
Like-minded partnerships
Since joining with Office Power Alister has sought to create partnerships with like-minded colleagues and through an agency contract agreement. "They all own their own business as consultancies and have an agency agreement with me," he explains. "Once they sign that agreement they have access to all the products, services and marketing we provide. They then go out and bring on all the people they know, and get an agreed profit-share every month.
"The self-employed agents are being paid a large profit percentage, so motivation levels are high and, because everyone knows where they stand – it is almost a 'one-size-fits-all agreement' we have – there is no man-management required as everyone is singing off the same hymn sheet and I basically lead from the front.
"Our supply chains are locked-in and automated; we are effectively a stockbroker. Clients come to us and have a login and account; they can input, or we can do it for them, and they can order whatever they want, whenever they want, and have it delivered to wherever they want. The hard bit was getting it set up but now it is like a polished machine. I owe a lot of credit to Office Power for enabling me to do it, and work off a platform like that.
"They have transformed my business. I had some conservative estimates of what we could achieve in the first year and we smashed these in the first four months." Considering that most of those four months coincided with the first COVID-19 lockdown only makes this more impressive.
Taking the chance
When the lockdown came Alister saw it as an opportunity. "We found a lot of our competitors were closing, and furloughing staff, which presented a huge opportunity for people like myself," he says. "The first thing I did was speak to my clients. Fortunately, many were businesses that needed to continue to work throughout the pandemic. I asked what they needed us to do to become a supplier to help support them. I then set up supply chains with established suppliers of PPE, masks, signage – the lot.
"Our turnover quadrupled within the first two months of the pandemic. Our clients switched their purchasing over to all these products they needed, and it was in huge volume."
Another reason for Go2's success is that throughout the pandemic Alister continued to meet his clients and suppliers – socially distanced, of course. "As a rule, up until the pandemic, once a month I would meet a finance director or head of procurement at their office, suited and booted. There'd be, handshakes, and I'd give them some stats, and set some objectives, for the next month.
"This changed to sitting in their gardens in the summer, their husband/wife making me lunch, petting their dogs, meeting their children, and talking about planning their return to work and what they could do with their home working staff.
"It created some beautiful relationships that I would never have been able to achieve in a normal environment. It also meant the client knew that we were doing everything to support them through the pandemic, while a lot of suppliers had closed."
Looking to the future, Alister wants to build on this initial success and is looking to take on more agents – although he is seeking quality, rather than quantity. "We cherry-pick who we work with. Anyone we bring on we ask, 'Are you going to add value to the team? Are you going to work with us to get us where we need to go as a collective?'
"We avoid the ones looking to make a quick buck overnight."