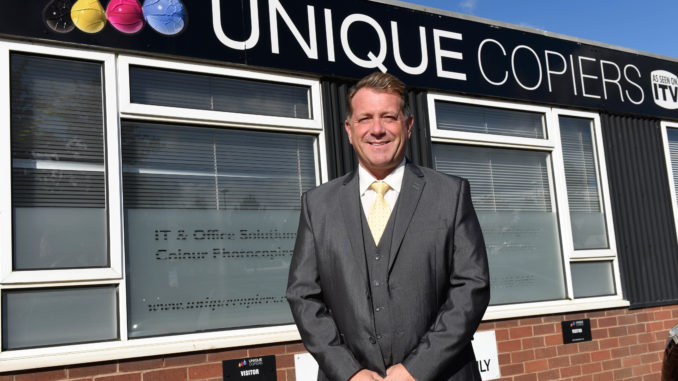 Unique Copiers, based in Donnington, has quadrupled the work it does for Belvoir sales and lettings property specialists and will now take care of all copying needs at the branches in Stone, Stafford and Birmingham. The extension comes after Unique started working at the branch in Grosvenor House, Central Park, Telford, in October and bosses have been blown away by the service.
Adrian Casey, owner of Unique Copiers, said he was delighted by the new contracts.
"We saved the Telford Belvoir office 30 per cent of their copying costs on their previous contract, so they asked us to look at what we could do in other branches," he said. "This sort of saving makes a big difference to business as copying costs are one of the largest – and most important outgoings. We were able to supply the Birmingham branch with all their copying and printing needs with substantial cost savings over their previous supplier. The other two branches in Stafford and Stone have signed contracts with us due to very positive recommendation from the initial Telford branch success.
"We are not surprised to have been appointed in the other branches but to be quadrupling our service to them in just six months is a great reflection on how happy they are with Unique Copiers and what we provide to our valued customers."
Belvoir has a large number of branches nationally and Adrian Casey said it is good to work alongside another well established business which prides itself on being reliable. He is now looking into if he can save money at more of them. "People often do not realise there are savings to be made in copying contracts," he added.

"It is such a vital part of a business, especially one like a sales and lettings specialist and all the paperwork that comes with it, that people end up paying more than they need to. We will always try to save people money but we really pride ourselves on being a trustworthy and reliable company As business partners with global company Toshiba there is a lot we can offer."