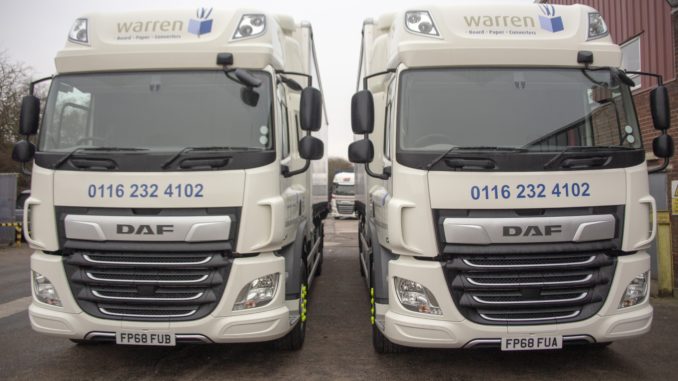 Warren, the UK's leading independent board and paper stockist, has significantly increased its delivery capacity with the addition of two new Warren-branded livery vehicles
Warren first introduced its own branded vehicles back in April 2016, having experienced a fragmentation of national hauliers and with the company requiring a solution that met the needs of its customer base. Needing to react quicker to customer demand, it acquired its first set of vehicles.
Fast forward two and a half years and, with Warren having gained a much broader customer base together with increased demand for its products, there came the need for a much greater capacity to be added.
Therefore, at the beginning of 2019, Warren acquired two 26T DAF CF curtain-sided vehicles from local truck supplier Alltruck plc. As an ISO14001 certified company, Warren takes its environmental concerns seriously, so both vehicles are Euro6 compliant.
Warren's operations director, David Whitaker, commented. "With changes in regional deliveries in recent years, that decision in 2016 allowed us to be more flexible. Since then the tremendous efforts of our logistics team in operating those vehicles at maximum efficiency encouraged us to invest in two new vehicles, increasing our overall capacity."
Don't forget to follow Dealer Support on Twitter!