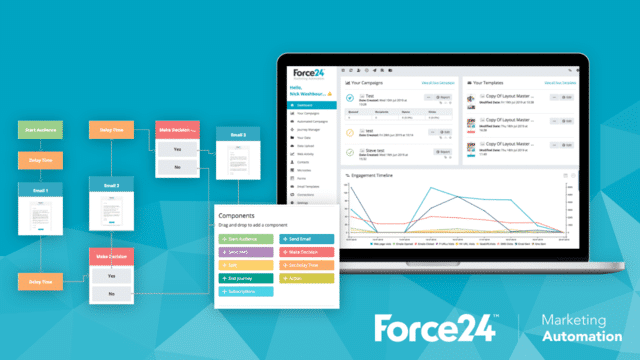 With employees set to return to offices, as well as the still-thriving work from home market, there are plenty of sales opportunities for business supplies companies – and they will need clever marketing to ensure they capitalise on them to the fullest extent, as Rory Groves from Force24 explains
In times of downturn, businesses look to cut costs, and often one of the first budgets to be cut is marketing. But this can be a false economy, as Rory Groves, marketing manager at marketing automation company Force24, explains: "In times of crisis, it's important for businesses to keep talking," he says.
"While there might not be a massive appetite for your products or services at that minute, there is still work to be done. Brands must keep talking to remain front of mind from a consumer perspective.
"All the time during the pandemic, the demand for products and services has been building, the difference being the budget has not been able to be signed off due to the uncertain climate we find ourselves in. This pent-up demand is bound to be released at some point, and often it's the brands that keep talking during the unforeseen circumstances that capitalise the most on this!"
The best way to communicate with customers is through personalised marketing, according to Rory. "It generates business and lets people know who you are, and, when done well, breeds trust and familiarity to your customer base and potential customers," he says.
"The right message is only penetrative when it hits the right person, on the right channel at the right time. Which means it must be personalised. In such a saturated market when everyone returns to work and every business is trying to make up for lost revenue, how will you stand out among them? Personalisation is the key!"
This is something Force24 does for many clients in the office supplies sector, with bespoke components based upon individual messages – whether that be; industry, job title, current/lapsed/new customer, POC, etc – that are relevant for each person.
"The outcome of this from a lead generation perspective is no more time wasted on cold conversations, instead just hot leads to pass through to the sales team to vastly increase conversion rates," says Rory. "From a customer perspective, it's much more engaging comms that are bespoke directly to them."
Automation
An effective way to do this is through automation, Rory adds. "This can save you up to eight hours a week to let you work on more important things while letting the automated journeys work away and nurture in the background without you having to do a thing," he explains.
"Highly targeted communications are the biggest benefit the customers will feel. No longer will they receive cold emails that have been sent to them and another 100,000 people from an outdated marketing list. Marketing automation will help by first cleansing the data, which in turn will allow for higher deliverability rates and less emails ending up in spam! Once cleansed, it can begin to sort the data into relevant data sets, which can be divided up however you want them. This means, depending on the data set, you can send a different email to each person in each data set. The result? Communications that feel relevant to them. People are sick of receiving another generic email that doesn't relate to their wants or needs. If you can speak to them with the right message at the right time, your engagement rates soar."
As Rory says, using data effectively in all aspects of the decision-making process, from triggering automated communications, through to analysing ROI from campaign is key. "
Being able to make use of the data your company has can unlock that extra layer of value from things like segmentation and personalisation," says Rory.
However, historically, clients in the office supplies industry have been slow to invest in marketing technology in comparison with other industries, according to Rory. "Due to this, marketing in the office supplies industry is often 'broadcasting' and shouting at an unengaged audience.
"To truly engage, we need to be able to pivot to tell the stories most relevant to each individual in that moment in time. Therefore, we need to consider multiple touchpoints to allow for all channels to be working harmoniously. To make the most out of their marketing and to gain maximum return on investment (ROI), companies in the office supplies industry should be looking at implementing a nurture process, which speaks to people about what is relevant to them, as opposed to blindly shouting and hoping your message hits the right person."
Keeping track
One of the biggest questions asked of marketing is to demonstrate a ROI. Historically, this has been difficult to do, but there are tools now that make it clear how a marketing campaign has fared.
"It's important to move away from click and open rates – what we at Force24 call vanity metrics – and focus on the real commercial value of what you are doing," says Rory. "It's all good and well if your emails have 60/70% open rates, but what real value is that bringing in?
"It is easy to lose track of what money you've put into your marketing and what the ROI has been overall. Not all tools can connect the dots to show these metrics, but Force24 can with its advanced reporting. It can pull together stats from all your campaigns in seconds so you can see your overall ROI from everything you've done.
"There's a huge economic boom coming, and we're here to help everyone we can squeeze every bit they can out of it by providing advanced marketing automation that saves time and maximises engagement and ROI," concludes Rory.
Force24 is the UK's fastest growing marketing automation company in the UK and is taking the workplace solutions market by storm. We offer a full marketing automation suite with free unlimited training and support for life to take your brand ahead of your competitors, whilst standing by your side every step of the way. We'd be more than happy to show you a free one-to-one bespoke demo tailored to your company if you'd like to learn more.