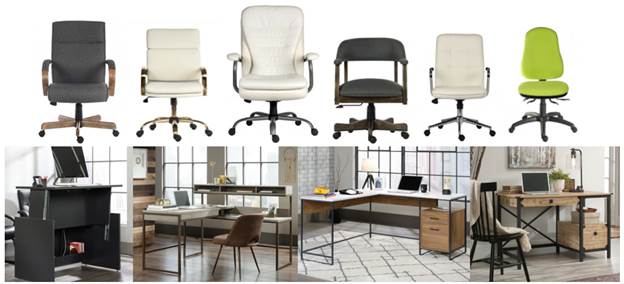 Teknik Office have a wide range of office seating and home office furniture available from stock, which, depending on the product can be delivered on a next day basis or via our pre booked, two man room of choice service
'WFH', 'work from home' and 'hybrid working' are now firmly part of the office furniture landscape and require a different approach from retailers to traditional office furniture. Whilst price tends to be a key driver for office furniture, with home office furniture it is not quite as critical, yes, price is important, but other factors come into play, most notably personal taste and style.
When purchasing furniture for home, the consumer response is far more emotive than when purchasing for offices and the subtle differences in taste are hugely varied, so a wide choice is needed – language is a good indicator of this… traditional, modern, loft, shaker, industrial, farmhouse and cottage are not usually words associated with office furniture, but with WFH furniture they are, as are the type of products; wall mounted, space saving, discreet, corner, alongside the more standard, larger workstations and executive desks
It is also important to have suitable matching furniture available; sideboards, bookcases, coffee tables, side tables and even TV Stands among others as consumers tend to want "domestic room style" furniture for their home offices so it fits into their houses.
These additional items can give a great opportunity to increase the individual sale from a single workstation and chair to a full suite of products.
Luckily, at Teknik, we have all of these considerations covered by our huge range of WFH furniture and Office seating, the retailers that are already working with us are seeing the benefit of this market.
Come and see Teknik at Dealer Support LIVE and see how you can tap into the opportunity too! Book your tickets by clicking here NOW!