The way we work has been becoming more flexible in recent years, but that has recently been forced to extreme limits by a global pandemic. Many of us are now working from our own homes, which has its challenges; while a lot of people will have some form of home office-set-up – even if that consists only a laptop on the kitchen table – it's generally not enough, and, alongside all of the uncertainty and concern, it's taking a toll on our mental health as we attempt to buckle down and carry on as normally as possible.
This means that the need to create a home office space which allows us to feel able to concentrate on work – away from the general and wide-ranging distractions of home – is more important than it's ever been. Leitz products, available through ACCO Brands, are designed to create the precise environment you need within your workplace-away-from-work, with brightly-coloured, colour-coordinated desk accessories and storage solutions, tools for boosting physical health and all of the essential tools that allow you to do your job effectively. For example, the WOW range includes a vast selection of working essentials in 11 possible colours, the TruSens air purifier ensures your environment constantly has clean air, and the IQ shredders offer a stylish solution to all-important document destruction.
Home-working wellbeing
The most important element of working from home is creating clear boundaries between the workspace and the relaxed home space. The temptation to watch TV, dust or do the laundry, even when you are sitting on an important task that requires absolute concentration, is enormous. Creating a bespoke home office solution using products designed for just that makes it a great deal easier, however; it's important to remember that the everyday office tools – from computers to staplers – must not conquer the entire household, but be confined to one specific area. This is not just about better organisation, but also about the clear separation of work and life – something many of us struggle to enforce at the best of times. Strictly avoid putting the computer to bed and getting up with it, and, if there is no separate work area to be had, the documents and tools for the evening should at least be stored in files, storage boxes or drawers, so that the upcoming tasks are out of sight and mind.
Ultimately, it's important to think seriously about what the ideal office environment looks like. Right now we have little idea of how long we may be using our home offices or workspaces for – so, while managers across the country rethink their home working policies for the future, those getting on with their jobs within the home need to give themselves the best possible chance of doing those jobs well by surrounding themselves with exactly what they need.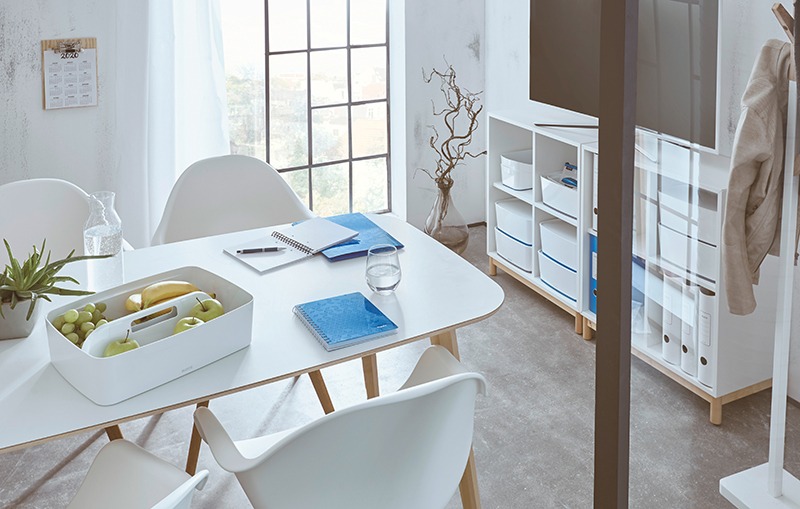 Leitz top tips for reducing distractions
Reduce office noise
For the most part, this is easier to do than it is in the usual kind of office – and, if you're working alone, you won't have colleagues thinking you're rude if you choose to wear headphones.
Disable social media notifications
We're glued to our phones so much of the time, and it's only worse when we're trying to procrastinate; just switching notifications off, or leaving your phone on silent, can make a difference.
Clear desktop clutter
An untidy desk creates an untidy mind, which is not conducive to a positive working environment. Use Leitz's brightly-coloured storage solutions to give everything its rightful place, and create a happier environment.
Cater for the 'search for food'
Keep fresh and dried fruit and nuts available for a slow release of energy throughout the day. The latter two items keep for a long time, too, which is particularly useful for those self-isolating.
To find out more, visit leitz.com/en-gb/design–concepts/home-office/