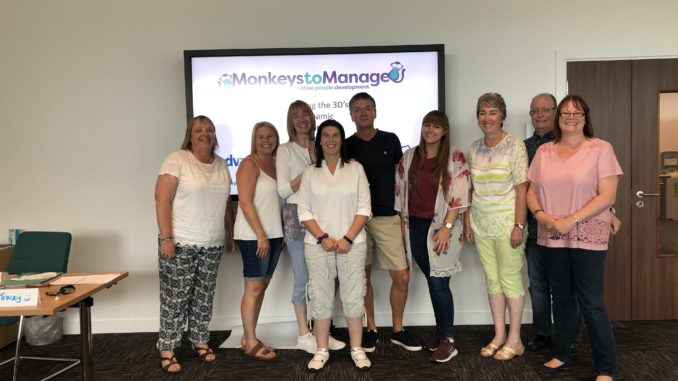 On 27 July, the Advantia Head Office Team headed off to Coventry for a team-building day to remember. The motley crew arrived with slight trepidation about what lay ahead – would the new team dynamics work? What would they be expected to do? Would they still be a team at the end of the day?
All fears were quickly quelled when Tracey Willmott from Monkeys to Manage greeted them and outlined what was to come – a fun-filled day that would teach the team not only about themselves but about their behaviour, the impact that behaviour had on others and, most importantly, how to work with different behavioural types to get the most from the team.
The day started with an ice-breaker where each of the team said a little about themselves and also had to share a fact about themselves that no-one knew. The group was then split into two teams and given the challenge to build a construction from balloons that would hold one member of the team for 30 seconds. After much hilarity, several burst balloons and many metres of tape, both team successfully completed the challenge.
The remainder of the session was spent looking at individual profiles, where they sat within the team and identifying the typical behaviour of that profile. The difficulty came when highlighting how other individuals saw that behaviour and how they identified with it, which made individuals think about the impact they had on others. This further led to everyone agreeing individual actions to take away from the session that would help the entire team.
Beck Miller, operations director, said: "It was a great day, enjoyed by all. It consisted of 90% practical activity and only about 10% theory, but the results it has delivered and the differences it has made to an already strong team have been noticeable."
Don't forget to follow Dealer Support on Twitter!