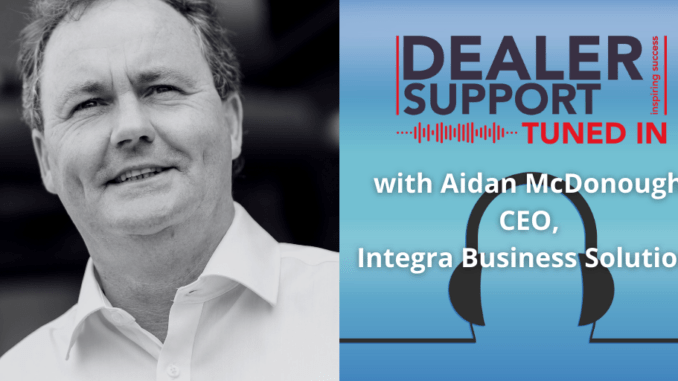 Integra Business Solutions' CEO Aidan McDonough discusses the issues facing the sector, why five-year plans are useless, and predicts a slew of M&A activity in the next year.
With 27 years in the office products sector, latterly as CEO of Integra Business Solutions, Aidan McDonough is an experienced head who knows that the sector will always evolve and overcome whatever problems are thrown at it – such as a global pandemic and its aftermath.
"The first lockdown, in mid-March, was a huge shock; nobody had anticipated anything like it," he says. "We had three months of closure. You are sitting there doing financial projections; the furlough scheme was coming in and nobody was sure of the detail, and you think 'This is catastrophic! This will be the end as we'll all run out of money.'
"Integra is intrinsically linked to its members. If they are doing badly, we are doing badly – that's how the model works. The second quarter of 2020 was really tough – that's where there was most closure – but the recovery was pretty quick, in fairness; the guys got on board with the COVID-secure products, and it was looking ok."
Despite this, Aidan reckons the second lockdown was harder than the first. "First time you have the adrenaline; you are making quick decisions and you are not sure what is going on," he explains. "The second one was just tortuous. I don't know if it was the weather, or the consistency of it."
Nevertheless, Integra fared well through the pandemic, and has focused on several key areas during that time – including diversifying the product mix, something the company has been working on for about two and a half years. "We brought in medical supplies, which was in no way related to COVID, it was about the fact could we get into care homes, dentists and GP surgeries," he says.
"The workwear side was going well, and the other side that has been good for us is our own brand. This performed well throughout 2020, principally because we had the demise of Spicers in the middle of this."
Integra also helped its members during the first lockdown with HR issues and applying for government schemes, as well as things like deal with furlough paperwork. "The guys did a brilliant job getting the message across."
Support needed
Despite the recovery in recent months, Aidan believes the sector will need more support from the government, going forward. "I'm a master of doom and gloom but, to be honest, the number one problem in my mind is liquidity – more so now than ever before. My concern is we are going to get to a situation where people who run January-December accounts are going to start posting 2020 results by September, and the issue is how the credit agencies will view those figures, and what credit facilities dealers are going to be given by the lending community."
He hopes that a new tranche of government-backed lending will be put in place to head off any potential problems. "I think it will be a progressive wind-down, as you'll have the gradual withdrawal of furlough from July, and I am hoping it won't be a brick wall we hit."
However, this is conjecture, and Aidan knows very well that looking to the future is just guesswork – and always has been; indeed, he has come to realise that five-year business plans aren't worth the paper they are written on. Integra is moving offices soon and, as part of the process, Aidan is going through 20-plus years of paperwork. "I have found all the five-year business plans, and I have found that five-year business planning is a load of nonsense when I look at what I thought we thought we were going to generate in the period.
"The market is too dynamic now to look at five -year business cycles – you are now looking at 12-18 months, and even that is best guestimate. Next 18 months? Consolidation will be the big driver in my view in every aspect."
Consolidation
Indeed, Aidan believes that, as we move to a post-pandemic economic phase, there will be consolidation activity in every part of the office products sector – from ERPs, to vendor communities, to independents – although this won't be without its difficulties.
"But the challenge, moving forward, is how do you value a business, and based on what metric?" he asks. "Even if you are doing forecasts moving forward for the rest of the year, what are you going to take as being indicative? Q1 last year? Q2, which was closed? Q1 this year? There is no comparative in this list that has any basis in reality. I have heard people say, 'Do we go back to 2019?' Is that a like-for-like comparison?"
That's not the only problem that potential acquirers will face, Aidan adds. For instance, when acquirers target a business they usually want two things; the expertise in the business and the customer base. "It isn't really the tangible or fixed assets like property or vans – those can be bought tomorrow – it's who are the key guys who are going to drive the business? This is one of the biggest challenges with M&A activity; in a lot of instances the primary driver in the business is the guy that wants to leave. He is the guy who set it up, is the driving force, the one who has the customer contacts, but he is also the one who wants to live in Portugal. That's where it becomes difficult to push these through and you have to be really careful."
You can hear more from Aidan in the latest episode of the Dealer Support podcast, Tuned In, hosted by Steve Harrop.