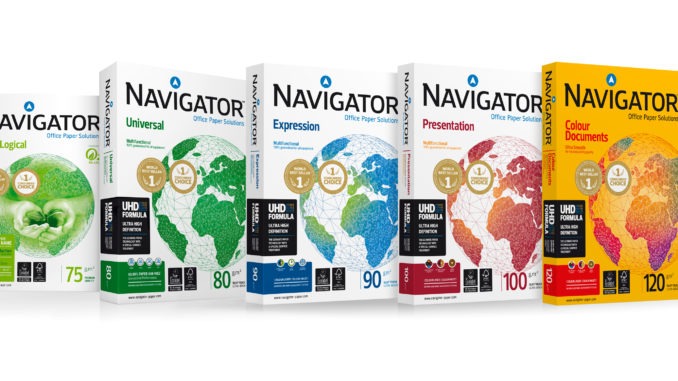 The addition gives Antalis' office customers even greater choice in high quality cut-size papers
Navigator is the world's leading premium office paper brand, offering unbeatable performance for any printing application. The Navigator range offers an option for every printing need. Available in A4, lightweight Navigator Eco-Logical 75gsm uses fewer natural resources whilst guaranteeing a premium quality performance – it's perfect for everyday printing.
Navigator Multifunctional Universal 80gsm – available in A4 and A3 – has a silky touch and is guaranteed for use on all printers and copiers. Navigator Expression 90gsm is a bright white, extra smooth paper, which offers excellent print contrast for superb ink-lift for high quality colour documents; available in A4 and A3. With superior thickness and smoothness,
Navigator Presentation 100gsm – also available in A4 and A3 – can be used for double-sided printing, while for the best image definition, Navigator Colour Documents 120gsm is perfect for high resolution, full-colour documents; available in A4.
All products in the range from 80gsm upwards are coated with a special Ultra High Definition (UHD) surface treatment that provides excellent printing quality on inkjet due to smarter ink absorption. Engineered for excellent runnability, Navigator papers ensure superior print performance and jam-free printing to deliver the best results.
FSC™certified and carrying the EU Ecolabel, Navigator is a range of quality papers with low environmental impact. The Navigator Company prioritises responsible forestry, with biodiversity conservation also an important aspect of their forestry model.
Paul Savill, product manager office and digital papers, at Antalis commented: "The Navigator range really offers our customers exceptional quality in every respect, from how their printed document will look and feel, to how well it runs in their printers and copiers. We're delighted to add Navigator to our range, giving our customers even greater choice."