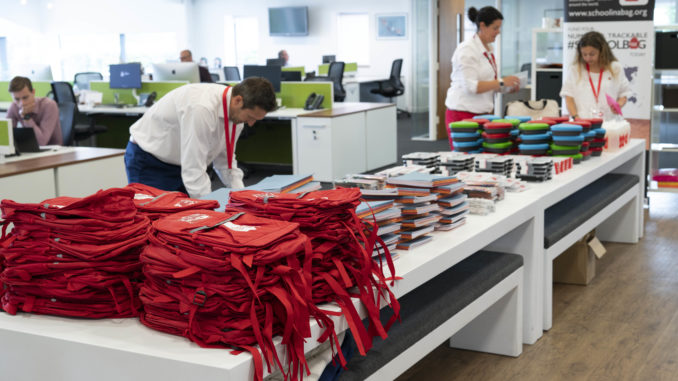 Blake has announced that, as part of its CSR programme, it will be partnering with the charitable organisation School in a Bag – thus forming an ongoing relationship that the company hopes will benefit the lives of thousands of school children across the globe.
Innovation and marketing director, Tim Browning, noted that this marks a very exciting period for Blake. He said:
"The Blake School in a Bag partnership marks the start of a new phase in our CSR Responsibility program. We are keen to ensure that we can measure the impact of all our activity. Our mission is to support social mobility for children by ensuring they have access to the materials they need to learn and be educated.
"There are millions of children in the world who will never go to school and this will continue to be denied from them, unless we can make a difference."
The partnership was formally launched on 4 July with Blake holding a red-themed School in a Bag charity day, during which over £10,000 was raised. This partnership has been the result of significant work and development from both Blake and School in a Bag. The Charity Day represented a fantastic launch event for this exciting collaboration, as School in a Bag's founder Luke Simon explained:
"Through initial meetings and discussions, we were already very impressed by the detail and thinking that had been put in to the School in a Bag Blake Envelopes launch day across all departments within the business and we were very honoured and excited to be included in it. The novel way of raising money on the day through sales made was so clever and seeing the financial total grow into funded SchoolBags added great suspense and reward to a fantastic day.
"We are so delighted that the ambitious target was surpassed and incredibly grateful to everyone at Blake Envelopes for their positivity and hospitality before and during the day. We look forward to showing everyone the beneficiaries of the SchoolBags they funded in Romania and Zambia."
Simon continued:
"This launch event and the funds we have contributed has meant that over 600 children will now have the materials they need to learn. We would like to thank all our business partners who engaged with us to exceed our first target and look forward to their ongoing support. Together we can make a significant and sustained difference to the lives of these children."