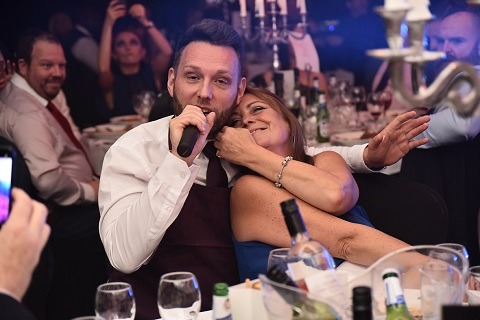 Dams celebrated its 50th anniversary in style by holding a dinner party and a night of entertainment at the Crowne Plaza hotel in Liverpool. Held on 8th September, around 230 customers, suppliers, colleagues and friends mingled, drank champagne, were served delicious food and enjoyed the evening's entertainment.
The celebrations commenced at the start of the evening with a gold star magician who amazed everyone with his sleight of hand and magical illusions. During the three-course meal, the Singing Waiters really set the tone for the evening by performing a unique classical music set. The look on guests faces when the waiters stopped what they were doing and started singing was unforgettable!
After dinner speaker and comedian Mick Miller provided plenty of laughs and then the evening's entertainment was rounded off with the wonderful cabaret act The Wack Pack and their high energy show featuring top vocals, fantastic choreography and lots of audience interaction so everyone could party the night away on the dance floor.
As well as food, drink and entertainment, the 50th party was also an opportunity to raise funds for Dams chosen charities for 2017 – Alder Hey Children's Hospital & the British Heart Foundation. The master of ceremonies for the evening Pete Price (from Radio City) was on hand to host fun games, an auction and a raffle with some great prizes to be won, and Dams were very thankful to our generous guests who helped raise over £7,200 for the charities.
"A company's 50th anniversary doesn't come around very often and we were delighted that so many of our customers and colleagues were able to attend our 50th celebrations in our home city of Liverpool," said Dams Managing Director Chris Scott. "The event was expertly organised and it was the perfect opportunity for us to celebrate this significant milestone and to thank our customers for their continued business and support."
The day started with an open house in Dams' new, improved showroom where the company were showcasing their latest 2017/18 product designs, including their new and improved Social Spaces product portfolio with a dedicated range of furniture for breakout areas and interiors within commercial environments.
The open day was also an opportunity for customers to meet the Dams team, visit the UK manufacturing facilities first-hand and give people a look at what is behind the brand. There was also a mouth-watering barbeque throughout the day for customers and all Dams employees to get a bite to eat.
Chris continued: "The whole day went really well with our Social Spaces™ launch and we were treated with a night to remember at our 50th party celebrations. We hope everyone enjoyed the evening and entertainment and we look forward to seeing you soon."
On behalf of everybody at Dealer Support – happy birthday!