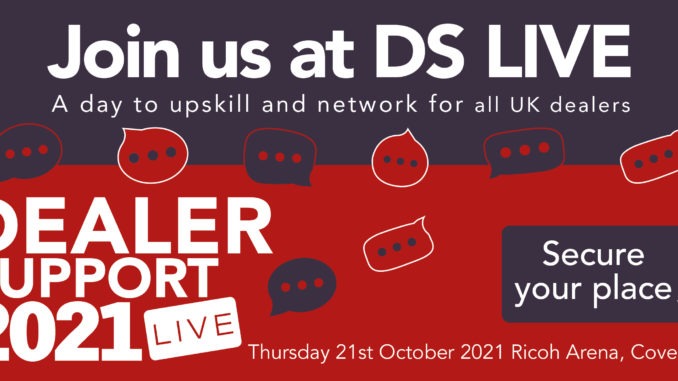 Join us for one of the first face-to-face dealer events to happen this year – Dealer Support LIVE 2021!
We are so excited to currently be planning for our 2021 event at the RICOH Arena, Coventry on 21st October after more than 18 months of social distancing, lockdowns, cancellations and postponements of countless events. As one of the first face-to-face, post-lockdown, dealer events, we promise to make it a reunion you won't forget, and a day that will be worth the (very long) wait. We look forward to seeing your faces, and we're sure you are eager to have conversations that aren't marred by poor wi-fi, or interrupting family members!
Following more than a year of lockdowns, and 'stay at home' messages, we now, more than ever, understand the value of face-to-face interaction, networking and collaboration. As well as a chance to socialise and catch-up with your fellow dealers (and we know there is a LOT to catch up on!) the day will be packed with opportunities to learn, share experiences and meet like-minded individuals – and will, as usual, be topped off with a tipple.
What is Dealer Support LIVE?
Dealer Support LIVE is an event specifically aimed at dealers and resellers of workplace supplies – an interactive learning and networking experience, quite different from other events currently on offer. You'll experience tangible, targeted, relevant information that makes a difference to your role and your business. We have a stellar line-up of expert speakers confirmed, presenting on a broad range of topics and issues facing dealers.
This will be our sixth Dealer Support LIVE year and the event only continues to grow in popularity and success. So, what is our winning formula for a truly beneficial experience and what can you expect from our upcoming event?
Why attend?
New year, new challenges, new content
All-new seminars – expert-led – addressing the topics most pertinent to dealers today; how to sell in 2022, automated marketing, evolution of the dealer, how to get sustainability right, hygiene and catering, tech for successful hybrid working, how to get more from your software systems and more…
Make it work for you – you choose your own seminars which allows you to curate your own day and create your own timetable.
Whether workshop, presentation or panel debate, attendees are encouraged to engage with both content and speakers – after all, Dealer Support LIVE is all about active learning.
Led by sector experts
Speakers include sector-leading specialists, renowned dealers, independent consultants, and commercial experts – all with proven experience in the industry.
A dealer is a jack of all trades; we invite speakers who can drill down into pain points and use their expertise to help you skill-up.
You can expect to see some popular, familiar faces, as well as new faces too!
Networking opportunities
You will be able to network with a cohort of fellow dealers – in their many different guises – representing the whole spectrum of the industry.  
We have made sure that there's plenty of time – over coffee and a delicious hot lunch – to meet and speak with colleagues and peers, continuing the conversation and forging mutually beneficial relationships.
More exhibitors and supplier partners means more opportunities for you to see new product solutions, what's evolving in market and to discover and compare what fellow dealers are using to streamline their organisations and improve sales and customer satisfaction.
Plus, stay and continue the talk over post-conference drinks – always a winner!
To register your interest or book a ticket, click here.