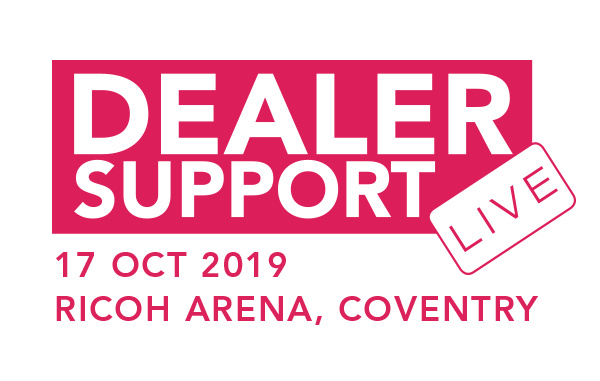 Dealer Support Live returns this year with a new location, a new format and a brand new attitude. Taking place on 17 October at Coventry's Ricoh Arena, the day will once again create an interactive experience that brings the magazine to life.
For the last four years, delegates have given us feedback and we've listened; our new format will see seminars running in the morning before the exhibition opens while short, informative, interactive workshops will run throughout the afternoon.
Additionally, the ever-popular industry Q&A will run towards the end the day, while tea and coffee, lunch and networking drinks will also be provided.
The highlights:
Dealer success
The future is still uncertain; at last year's event we spoke a great deal about preparing for Brexit, but the deadline has come and gone and little has changed. As such, we're focusing on championing the success of the dealer in a variety of ways – from industry insight and managing change to CSR, wellbeing, innovative technology and beyond.
Open Q&A
Once again we will run a Q&A panel where delegates have the chance to direct questions, openly, to a group of key industry figures with a variety of specialities.
Exhibition
The exhibition will remain a key part of the day – in fact, we're increasing the focus on this by opening it after the first block of seminars is over, ensuring that guests and exhibitors get plenty of face-to-face time without sacrificing any other part of the event.
Information to-go
Dealer Support Live offers marketplace insights and business solutions that will help dealers make informed decisions about the direction of their business. There will be the quick and easy wins that can be applied to your business straight away, as well as more in-depth business modifications that are thought and time-intensive.
Networking
No-one knows the challenges and benefits of running a reseller business better than those who do it. Dealer Support Live is a fantastic opportunity to network with others business leaders in the sector, sharing experiences and solutions and forging long-lasting, professional relationships to benefit you and your business.
Tickets are now available and FREE to dealers. Click here to book!