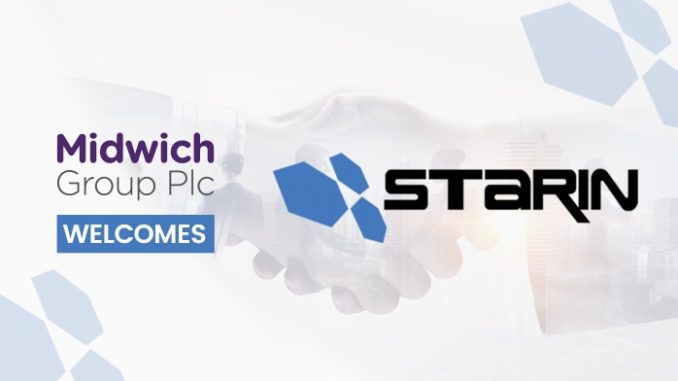 Midwich has announced that it has acquired 100% of the share capital of Starin Marketing, Inc. a US-based, specialist value-added distributor of AV products
Starin, headquartered in Chesterton, Indiana, was founded in 1988 and generated revenues of over $200m in the last financial year. It is currently led by the senior management team of Bill Mullin (CEO), Bill Pak (COO) and Bobby Swartz (president), all of whom will remain with the business and continue to drive Starin's growth strategy.
The business has a particularly strong heritage in the unified communications (UC) market, and works with leading brands, such as Barco, Poly and DTEN. The company has also pioneered the ZoomRooms' 'outfitting' model, allowing it to support certified zoom integrators with a complete eco-system of hardware components which are optimized to work with zoom's video conferencing software.
In addition to the company's UC market product offering, the business provides a range of specialist AV technology solutions to US customers. It supports customers with video and technical video solutions, representing major brands such as LG, Vivitek and Advanced Network Devices. The company also has a strong presence in the professional and consumer audio market through its relationship with Mus!c Tribe.
The company's value add market approach has been the primary driver behind its development. The business was the original pioneer of launching Barco Clickshare in the US market and is renowned for its technical expertise, providing regular customer solution and product training. These value-add services will continue to be a key focus for Starin. With Midwich's backing the business will look to further strengthen the specialist support it can provide to its customers and vendor partners.
Stephen Fenby, Midwich Group MD, commented: "We are delighted that the Starin team has chosen to join the Midwich Group and we are very excited at the prospect of working with them on Midwich's first investment in the world's largest AV market. The partnership will allow us to broaden our support to international customers, and further strengthen our relationship with current and new group vendors. This acquisition also adds to the group's UC capabilities, providing additional expertise in a strategically important market."
Bill Mullin, CEO of Starin commented: "Midwich has a very similar culture and focus on AV Communications, while at the same time is keenly interested in having us go to the next level in our strategic initiatives and alliances. It was the best fit from many options we considered for advancing. Midwich's existing global infrastructure gives us a platform for continued coverage and growth, in addition to providing resources for elevated structural, operational and financial capabilities. The potential shared chemistry between the Midwich companies is powerful.  Best of all, our partners will benefit in significant ways."
Don't forget to follow Dealer Support on Twitter!