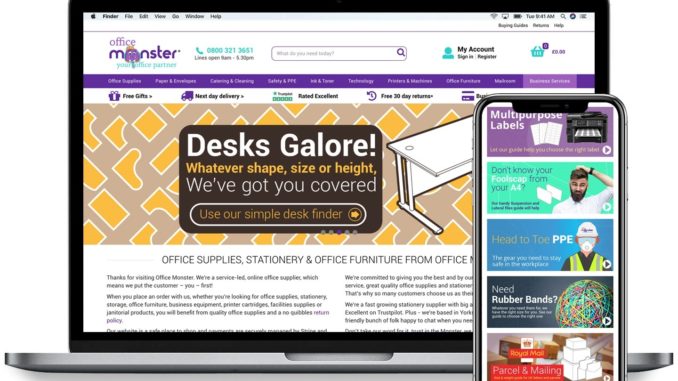 Following a £50,000 investment, Office Monster is celebrating after completing a website redesign and build which will see the business add a market leading digital service to its current customer focused approach.
Having outgrown its existing ecommerce platform, the business has now streamlined the online shopping experience to offer a service which rivals that of a high street retailer, while also creating a site that will directly rival larger well-known web-based office supplies companies.
Taking the time to consider how fast-paced the purchasing process is for consumers that choose to shop online, the website has been developed to include tools which increase efficiency for users. Shoppers can now find their stationery supplies and purchase a product within just four clicks, thanks to the structure and content being more relevant and rewarding.
Steve Hanley, co-director of Office Monster, commented:
"As a business, we've made a very conscious decision not to be what is typically expected of an online office stationery supplier. Our number one focus is, and always will be, customer service, so we're really proud to know that we're offering a market leading experience which further sets us apart."
A phase two of the site will see VR and 3D product configurators feature within the platform to give customers access to superior functionality and bespoke items that can be designed to fulfil a user's exact requirements. Initially offering office furniture, the business has plans to extend this facility to include further products in the years to come.
Ryan Ward, co-director of Office Monster, added:
"Thanks to the significant investment we have made into the web platform, we know that we can offer the extra convenience and experience that is required when consumers are making an online purchase.
"Whilst we have a huge range of 22,000 products, customers don't want to trawl through a long list of items before finding the one that is right for them. This is why we've focused on simplifying the process and making the whole experience quicker and more functional for users."
The directors hope that the website will become instrumental in allowing it to meet with its ambitious expansion plans to report a turnover of more than £10m in the next five years.
Don't forget to follow Dealer Support on Twitter!