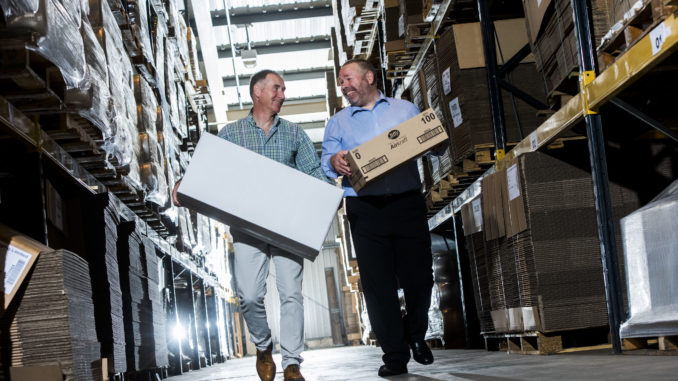 Pitreavie Group, which boasts an annual turnover in excess of £13m, has announced an investment of £650,000 in the Glenrothes-based company.
The investment comes hot on the heels of a £1m injection into SorbaFreeze Chilled Packaging Specialists – acquired by Pitreavie Group in 2015 – to purchase the latest technology to aid production of the company's temperature-controlled packaging solutions. The most recent £650,000 figure is to support the ongoing growth of the packaging business, which has evolved from a Fife based two-man operation into a national supplier with additional bases in Glasgow and Aberdeen.
Five new roles including three regional managers, a financial controller and a supply and logistics director have been created. A new IT system enabling greater efficiency accessing Pitreavie's vast database of products, and in turn improved customer service, and a comprehensive group-wide marketing strategy will be implemented as part of the investment.
Gordon Delaney, group commercial director, said: "From just two employees when Pitreavie was founded to almost 100 eight years later, we've learned the importance of always investing ahead of sales. We have significant future plans and by spending in these areas, we're preparing for continued growth.
"Exceptional customer service underpins all that we do. This investment means we'll have the best people to deliver that customer service, and the tools to help them do so."
Joe Diamond, managing director, added: "Not only are our products innovative and at the forefront of packaging technology but so too are our processes such as our 'stock and serve' service. This option enables customers to have their products at most 24 hours away, while we stock them, and they are only invoiced the items they take delivery of. We have the buying power, and storage, that our customers can benefit from. We pass on savings and space to our clients, adding value to their business and streamlining the procurement process."
The business continues to develop environmentally aware products, helping clients reduce the amount of waste and plastic used in packaging, therefore meet threshold requirements set by the government.
Delaney added: "As a group, across all divisions, we are continually striving to reduce as much waste as possible. Not only is it a key objective for Pitreavie but it's a top priority for our customers, and where possible zero plastic is being used."
Don't forget to follow Dealer Support on Twitter!