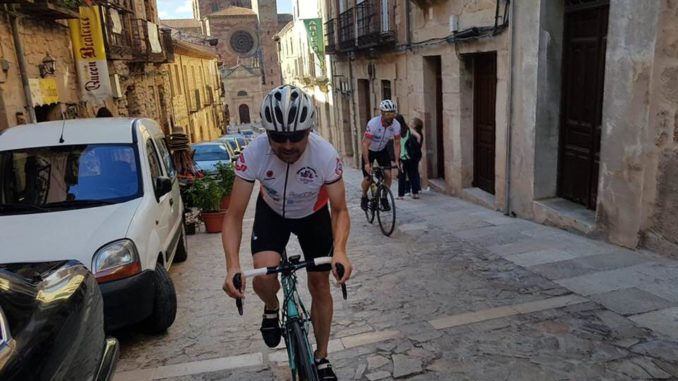 Sharp Business Systems UK is proud to announce that its very own Julian Hodges has raised over £32,000 for charity, completing the 'Blazing Saddles' cycling challenge from Oldham to the Rock of Gibraltar.
With this fourth challenge spanning over 15 days in July, the team of 13 firefighters and friends rode almost 1,700 miles and climbed a breathtaking 100,000 feet. Averaging 115 miles per day, the gruelling inter-country ride saw the team cycle from Oldham to Portsmouth, then through the lush countryside of France, over the Pyrenees, across the hinterlands of Spain and concluded with a welcome by the fire service and governor in Gibraltar.
Hodges, product marketing manager at SBSUK, talked about the difficulties of the challenge: "I've always tried to stay active by cycling or running, but the last 9 months has been all about Blazing Saddles, and preparing mentally to be away from my wife Rachael and the kids.
"The whole thing was hard, but the biggest trial for me was getting across the Sierra Nevada in Spain. We clocked the heat at over 42 degrees one day – it was like a desert, I think a couple of the guys were on the verge of collapsing!"
Pushing their bodies to the limit, the cyclists raised the outstanding grand total for Cyclists Fighting Cancer, the Fire Fighter Charity, mental health organisation MIND and neonatal charity SANDS.
Hodges commented on his highlights: "For me, getting up and through the Pyrenees was amazing, with 16 mile climbs it felt like I was part of the Tour de France!
"The route had some of the most beautiful scenery I've ever seen. There were stunning sunflower fields in France, central Spain was like the wild west, and the Pyrenees was full of breath-taking rocky gorges, a true once in a lifetime trip."
Approaching the 100th anniversary of the end of WW1, the cyclists made emotional stops at the graves of boys that gave their lives from the 'Oldham Pals' Battalion, who now rest in the port town of La Havre in France.
Sarah Coates, HR manager at Sharp added: "At Sharp we have always been advocates of initiatives like this that support local and national communities. I'm so proud of Julian for really embracing that ethos and putting his all into this cycle. He's raised a phenomenal amount of money for charity and should be delighted with his performance!"
Show your support and add to their grand total here.