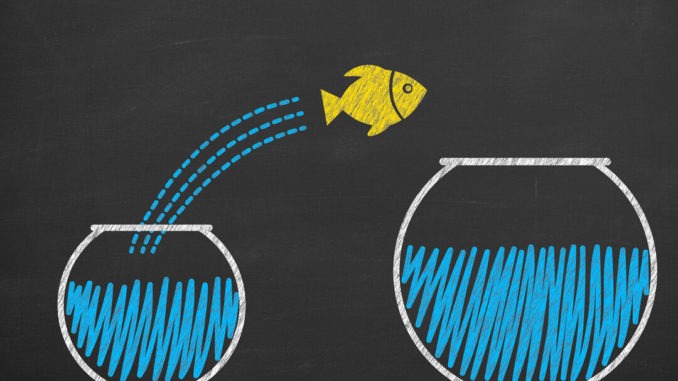 The past 15 months have been challenging for dealers like D3 Office Group – and while the traditional market may have changed for good because of it, there are new opportunities out there to be grasped
When lockdown was first introduced in March 2020 Martin Shaw, D3 Office Group's managing director, felt like they were 'staring into the abyss' as businesses shut their doors overnight. D3 was not alone; many other dealers felt the same.
Fast forward 15 months, and Martin is optimistic about the future, having weathered the pandemic and with plans to take advantage of new opportunities in the sector. "Like many dealers in our sector, we furloughed a good percentage of the team, initially," says Martin. "But then we were lucky, in a sense; a high proportion of our customer base is industrial manufacturing and distribution, and a lot of those businesses were still active and were in touch with us as their other options closed down to say; 'We need PPE. We need sanitiser. We need lots of other products we've not asked for before.'
"Because we were a regular support network for them we picked up a lot of enquiries and that got us into PPE and janitorial products – which proved to be a significant boost to the business. D3 enjoyed sales of £2.5m in these areas in 2020."
Wholesale problems
Another shock to the market during the past year has also affected how D3 and others do business; Martin says that the demise of Spicers has led to an erosion of wholesale choice for dealers – which is, in some ways, shocking – but maybe not entirely surprising.
"The wholesalers are very inwardly-focused at the moment," he says. "This, plus their introduction of delivery charges, huge price increases, and an increasingly haphazard delivery service have tested the dealer-wholesaler relationship; I think many dealers will acknowledge that."
For instance, Martin says that there are many mornings when he is not sure when the wholesale delivery which, in turn, enables D3 to get its deliveries out to customers, will arrive. "Mostly, the latest delivery we get is 9.30am, but we have many days when drivers are hanging around waiting since 8am for the goods to arrive – that wholesale delivery used to arrive at 7am every morning."
This leads Martin to wonder if the close relationship that wholesalers and dealers had in the past will return as we move to a post-pandemic economic phase. "This is something they have really got to look at," he says. "Wholesalers need to start becoming more externally-focused again – focusing on the customer rather than their own woes.
"We can see that their sales are down and they cannot operate on the same footing they used to, but they have to be careful they don't kill the golden goose! We dealers live on our service and, if the service isn't good enough, it puts us at a disadvantage.
"Wholesalers still have a great opportunity to work closely with dealers but, if they make it difficult, dealers have proven themselves to be very nimble over the past 12 months, and could start looking at other opportunities."
Tech drive
Another effect of the pandemic has been to speed up the decline of the traditional core office supplies market, Martin notes, "but there are still lots of opportunities out there."
One of those opportunities is selling technology products. "Technology has moved forward massively over the past 18 months because people's uptake of it, and skillset in it, has had to move quickly too," he says. "People who, perhaps, had Microsoft Teams on their computer, but never used it, now have to. The world is quickly becoming more electronic – young people barely print anything out, and are using multiple screen devices. It's a shift to a different product mix, and selling different products to our customer base."
Another pandemic-related opportunity Martin points out is that many employers have considered that – since so many people are working at home – now is the ideal time to refit their workspaces. "The furniture and fit-out market is booming at the moment, with many people gearing up to provide a new working space for their employees before they come back," he says. "Breakout spaces and meeting rooms are the priority over how many desks there are, and whether someone has their own desk if they are going to be partially working from home."
Diversification is key
Opportunities such as these are there to be taken and, as the past 18 months have shown, dealers can be very nimble and innovative. "That's one of the benefits of the dealer market – we can hear about an idea on Monday and by Tuesday we have bought the products and are selling it!" he says. "We don't have to wait to manage these areas; we can innovate extremely quickly.
"We have an amazing team at D3 which has really pulled together, and had some brilliant ideas for new products. We have developed new suppliers at pace – and a whole new way of working – over the past 15 months.
"Innovation into new product areas has given us a real hunger; if we can do it with PPE, with can do it with things like tools or technology products too."
Dealer collaboration
Martin intends to expand D3's product offering further in the coming months – and knows that others in the sector are doing similar. "March last year was a scary time, but we have proved to be not only resilient but also grow the business. It showed that a lot of our customers value our service and that gives us a passion for looking after them and finding new things to supply to them.
Over the last 18 months, the dealer community pulled together as a team, sharing ideas, successes and failures. As we move out of these frenetic times, there is an amazing opportunity for dealers to work together collaboratively on product category management and IT systems and take a leading position in the market.