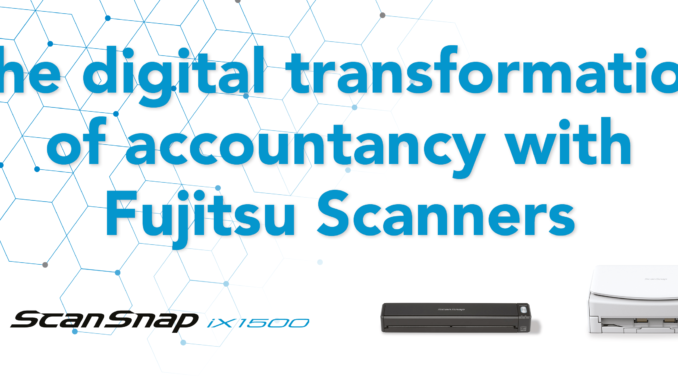 Accountancy is one of the most paper intensive industries, with thousands of bank statements, invoices and receipts to deal with. It can be a costly, and time consuming part of the job to deal with it all. Accountancy is currently going through something of a digital transformation at present, with document imaging scanners digitising and organising this paperwork
Paul Moore, director of P C Moore Accountants LTD, has recently made a move towards digitisation, and discovered first-hand how it's helped their business save time and money. The company currently deals with around 500 businesses and over 40,000 paper bank statements every year, through book-keeping and completing annual accounts.
Paul stated that, originally, he employed a full-time member of staff just to check the bank statements, and enter all the details into an Excel spreadsheet, effectively duplicating the statement digitally to get a balance at the end of the process. This was a very labour-intensive job, and prone to human error – so, when this staff member left, the accountancy started to look for a digital solution to speed up the process and save on staff costs.
After contacting Fujitsu, P C Moore Accountants acquired a Fujitsu iX1500 ScanSnap scanner which has transformed the business. Bank statements can now be quickly and accurately scanned directly into the computer and, sfter scanning, the bank statements are electronically sent to 'Auto Entry', a digital service which extracts the dates, description and figures from the scanned bank statements and returns them inside an Excel spreadsheet – completely automating the manual entry process.
This has led to enormous time saving benefits for the accountancy business, reducing bank statement entry costs by around two thirds, and alleviating the need to employ a replacement member of staff. Tracey, the employee who operates the scanner, commented on how the new scanner is easy to use, very quiet, and the scanning quality is excellent, additionally mentioning that paper jams are very simple to deal with at the press of a button.
Fujitsu are the market leaders in the document scanning arena, offering the most comprehensive range of document scanners available. With a reputation for quality and reliability, they sell more document scanners than all of their rivals combined. The scanners deliver speed, image quality and an unparalleled document feed mechanism, alongside compatibility with all the major document imaging applications.
To find out more about Fujitsu scanners, please click here.
Attention dealers: PFU (a Fujitsu Company) EMEA's successful ScanSnap iX1500 promotion has made a comeback for 2020; your customers can get a free ScanSnap iX100 mobile scanner with every ScanSnap iX1500 one-touch scanner! Here are the benefits of both:
ScanSnap iX1500
The ScanSnap iX1500 is the flagship model of the ScanSnap series; it digitises large volumes of documentation quickly, improving productivity and efficiency, allowing any business or individual to focus on what matters most. What's more, using the iX1500 is incredibly simple thanks to wireless connectivity, an intuitive touch-screen ScanSnap Home software hub. The device adapts to the preferences required and evolves as the user does, enabling smarter working.
Product features:
Great for both personal and sharing use
30 ppm colour scanning
50 sheet automatic document feeder
Dust detection and streak reduction
Scans wirelessly to a PC, Mac or smart device
Wi-Fi connection allows scanning straight from the ScanSnap to the cloud without your PC, Mac, iOS or Android device
ScanSnap iX100
The ScanSnap iX100 is a battery-powered wonder which makes scanning mobile. Whether scanning receipts, contracts, recipes, or plastic cards, the iX100 brings mobility and wireless scanning to your PC, Mac or mobile device.
Product features:
One-button searchable PDF creation
Scans a colour document in 5.2 seconds
Built-in GI microprocessor
Scans wirelessly to a PC, Mac or smart device
Scans two small documents at the same time
ScanSnap Cloud – takes paper directly to your cloud.
Why scanning is beneficial
Paper costs are slashed – no more buying, storing, printing or destroying paper.
Security is improved, which is vital for an accountancy business, or any organisation which deals with large volumes of sensitive, private or financial data.
GDPR compliance. Article 15 and 17 of the General Data Protection Regulation require a business to be able to find and/or destroy information on an individual, on request, and digitising documents allows for full searchability.
Audit trail. As well as creating something that's searchable, scanning allows a full audit trail of who's seen data, where it's been sent and if anybody has printed it out.<box out>
Don't forget to follow Dealer Support on Facebook and Twitter!