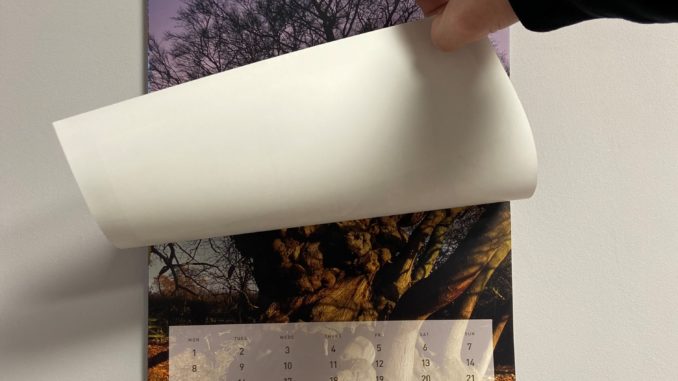 Premier Paper has teamed up with the renown photographer and author Archie Miles to produce a stunning tree themed calendar that directly supports the Woodland Trust
In the mid 1990's Archie Miles set out to produce a book that provided a cultural overview of Britain's trees an in 1999 his first book, Silva – The Tree in Britain, was published. Since then Archie has spent over twenty years travelling and exploring, discovering and writing about some of the country's most fascinating ancient trees.
The Archie Miles – Trees calendar has been printed using Essential Silk from Premier Paper, a wood-free silk, triple blade coated sheet that provides a unique uncalendared silk finish; and features some incredible examples of Archie's tree photography including a majestic ancient sweet chestnut in Herefordshire and the tendril like roots of a beech in Ebbw Vale – there is something masterful and captivating about each picture.
Premier's marketing director Dave Jones commented: "We first worked with Archie Miles in 2016 to produce the Treescape book, over 190 pages of Archie's photographs and commentaries about some of the UK's most fascinating trees and woodland landscapes. There is something incredibly captivating about Archie's photographs that really draws you in and naturally we felt that this would work extremely well as a calendar; showcasing Archie's work all year round whilst supporting the Woodland Trust."
These excellent calendars are now on sale to the public and the Woodland Trust will receive £5 for every calendar sold.
Jones continued: "Our work with the Woodland Trust has enabled our customers and their clients to demonstrate their commitment to the environment through our Carbon Capture® programme. Proceeds from the purchase of the Archie Miles – Trees calendars will help to support the work of the Woodland Trust; we look forward to teaming up with them again in 2021 to plant more trees, for all to enjoy."
The Woodland Trust is the UK's largest woodland conservation charity, with over 1,000 woods across the UK, from the Cornish coast to the Scottish Highlands. Premier Paper and their customers have been supporting the Woodland Trust with the Carbon Capture® programme; the industry's leading environmental initiative that mitigates the CO2 emissions from paper purchases and creates and maintains native woodland in the UK. To date Premier and their customers, through the Carbon Capture® programme have captured over 66,700 tonnes of CO2, raised over £1.1 million for the Woodland Trust and planted of 266,000 trees which is enough to stretch over 142 miles!
If you'd like to order a copy of the Archie Miles – Trees calendar, click here. For more information about the Carbon Capture programme contact your local Premier branch or visit www.paper.co.uk.