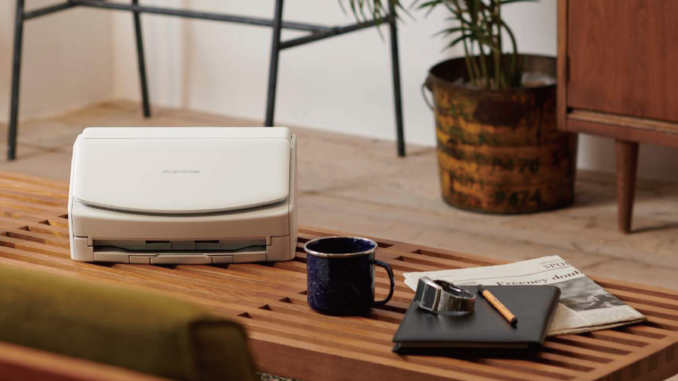 Sponsored
Because the age of digital transformation marches on, and businesses of all sizes need to be involved. SMBs and SOHOs are just as keen to become more efficient and save money as larger companies are, and high-efficiency scanning can be a vital component of this.
There are a whole host of ways to open up the conversation on scanning and document management with customers, including:
Money-saving
Scanning removes the need to maintain paper-based filing system, which automatically saves money on materials as well as space.
Improved productivity
Document scanning makes it so much easier to find the information you need, when you need it. This saves workers a great deal of time as they find documents in seconds, rather than the potential hours it takes to dig them out of files.
Organisation
Having all files stored flawlessly in one place with simple pathways to find them not only makes them far simpler to find and saves timer.
Smarter working
Having this scanned data stored together also means it can be accessed in a variety of ways – such as on smart devices and through a cloud service – which fits nicely into the modern way of working, especially as more and more people work remotely.
Disaster recovery
Paper documents don't tend to survive well in the event of fire, flood or simply loss; digital data is far more robust and can be securely stored both online or external storage devices for future use. Scanned documents also won't deteriorate as physical copies will.
Document and records retention
Records need to be retained not only for the purposes of business use, but also to meet legal and regulatory obligations – such as for GDPR compliance. Recent legislation directives are becoming truly focussed on the virtues of operating a digital workplace, embracing mobility and collaboration.
A greener way of working
Scanning is a paperless process, and often there is no environmental cost when documents are distributed electronically. If documents are scanned, less paper is wasted, transport of documents is reduced and the amount of landfill used is lessened.
Customer satisfaction
Vitally for customers, response times are reduced, information is available in seconds from a computer, and remote locations and global business offices are connected and able to respond to customer needs faster and more efficiently.

As well as those benefits listed above, the cost of paper and print is increasing too, putting further pressures on paper-based processes, if a business factors in the indirect costs of print, such as the time taken to find and retrieve a document from a file versus a quick, online search, the case to switch to a digital process is compelling – as is the case for using dedicated scanners over MFPs.
Customers choosing a dedicated document scanner as opposed to a multi-function device are enabling their business to become more efficient and productive, whilst embracing the digital revolution and merging paper-based records with digitally-born files.
Digitalisation creates greater collaboration both between staff and with clients, who are often increasingly demanding faster, better access to their data. Scanned documents can be instantly shared across the cloud or a network and viewed across a variety of platforms such as tablets, phones and notebooks.
Further benefits of a dedicated scanner include:
Improved speed and paper handling. Capture double-sided documents easily, at speed and intuitively. Fujitsu's scanner range offers a high daily throughput and can cope with mixed batches without the need for pre-sorting or adjusting settings. They also come with in-built hardware feeding functions to reduce the risk of double feeds, or intentional double feeds such as attached post-it notes.
Additionally, the scanners will automatically crop to the correct size scanned, remove any scan skew, auto rotate and remove blank pages.
Location and efficiency. There have been numerous studies about the wasted time in a typical week that can be spent walking to and from a multi-function device – such as a photocopier – and then the scanning function itself. An MFP is also a shared device, so extra time may be incurred if it is already being used.
Image quality and processing. A scanner can capture the content of a document and not just the image. Rather than creating a JPG, a scanner can produce a searchable PDF, thereby making information instantly retrievable at a later date. Bundled OCR software means documents can be scanned and instantly converted to editable Word, Excel or PowerPoint files.
Receipts and business cards can also be scanned, and information exported to a database or expense monitor system. Bundled PaperStream Capture software with Fujitsu's SP and fi models literally cleans up the image and assisted scan can help with choosing the best scan for your workflow.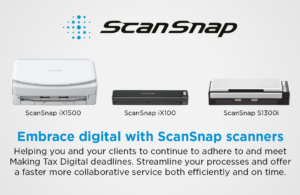 The ScanSnap range of personal productivity scanners take the complications out of document imaging offering one-touch usability and are the smarter way to work! Scan everyday documents and seamlessly link to cloud accounts, smart devices and applications. Effortlessly minimise the hassle often associated with pre and post scan operation; simply scan your document and ScanSnap will intuitively clean-up and present the best scan first time. ScanSnap comes with a host of productivity enhancing bundled software.
Enable the seamless capture of everything from everyday correspondence, invoices, printed receipts and photos that can then be quickly and simply scanned in. ScanSnap Cloud with the ScanSnap iX1500 and ScanSnap iX100 can even identify the type of content you upload and route it directly to your preferred cloud service, so there's no need to even boot up a PC!
For further information visit www.ScanSnapit.com or come and join our workshop and/or visit our stand at Dealer Support Live.
Don't forget to follow Dealer Support on Twitter!