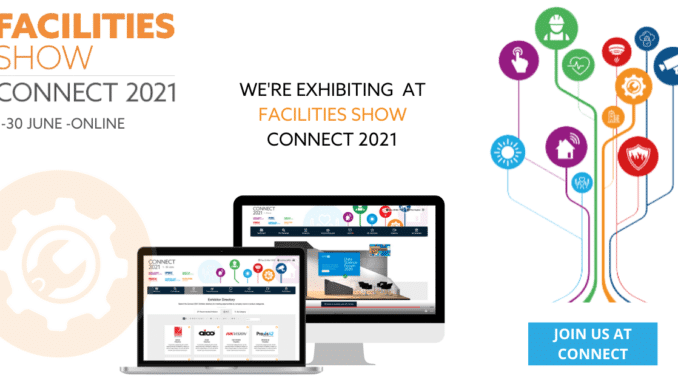 ACCO UK will deliver a tech talk and demonstrate a range of products and solutions for facilities management at the Facilities Show Connect 2021 in June
As organisations in every sector eye a return to normality after a year of pandemic restrictions, it is clear that safety is the issue on everyone's minds for the next few months. This past year, ACCO UK has continually adapted to provide customers with a range of solutions for maintaining health and safety, offering products ranging from social distancing screens to automatic, low-contact shredders and laminators.
At the Facilities Show, ACCO will debut its latest solution for safety in the new normal: the Kensington UVStand™. This desktop monitor stand has a built-in sanitisation compartment complete with fully-contained UV LEDs that safely sanitise keyboards, mice, trackballs and mobile phones. When in use, the UV-C technology is able to eliminate up to 99.9% of bacteria and viruses within just 10 minutes and without the use of chemicals, liquids or wipes. This makes it quick and easy for organisations to maintain cleanliness in the office environment. This product complements some of the brand's other sanitation-focused products born from the pandemic, including their range of washable keyboards and computer mice.
The UVStand™ made waves when it debuted at CES, the world's most influential technology event, and was even named as a CES® 2021 Innovations Awards Honoree. It has only just become available for purchase here in the UK and will officially launch into the UK market at ACCO's Facilities Show Connect Tech Talk featuring a live Q&A with the ACCO/Kensington team.
Nick Revell, product manager for Kensington Europe, Middle East and Africa, will deliver ACCO's Tech Talk at the event. He commented: "My team and I are really looking forward to presenting the UVStand™ at this year's Facilities Show. It's a fantastic product that will really resonate with the needs and challenges of many facilities managers and decision makers as they prepare to reintroduce staff to the office. Health and safety need to be a top priority for this next phase of business, but for any new initiatives to be successful, there needs to be active participation throughout the organisation. The great thing about this product is that it makes it really simple to effectively sanitise high-touch items with minimal effort."
Lee King, director EHS & facilities for ACCO EMEA, has over two decades' worth of experience helping to create safe and efficient work environments. Recently, he was tasked with creating the plans for the safe return to work at all of ACCO's European sites during the pandemic. For Lee, this year's Show will be of critical importance for organisational decision makers.
He explains: "Facilities managers and health & safety managers have a challenging few months ahead of them. Preparing premises for the safe return of staff and customers is a massive undertaking, but getting it right is critically important. Having the right tools in place can really help ease the process and provide some much-needed peace of mind. In preparing ACCO's sites for our staff's return, we've been able to rely on products from our various brands.
"We already had some great solutions in our product catalogue pre-pandemic, such as GBC's fully-automated desktop laminator, which is great for the creation of health and safety signage, and our various ranges of auto feed shredders that minimise the amount of contact staff will make with shared equipment. But we also introduced a range of solutions influenced by the pandemic, like Nobo's range of social distancing screens, which were created specifically to suit our customers' changing needs. I'm proud of the products we're putting forward at this year's Facilities Show and look forward to hearing from others in the industry."
ACCO's Facilities Show Connect 2021 presentation will take place at 10:00 GMT on Tuesday, 8 June. To secure your free ticket to the event, register here. At the event, don't forget to visit the ACCO virtual stand, check our presentation video, or book a virtual meeting with the team.