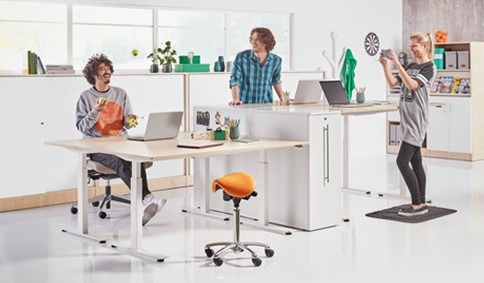 Healthy workplaces = happy customers
Businesses are becoming increasingly aware of the importance of employee health and well-being. There is little doubt that the workplace of the future will place greater emphasis on solutions that encourage physical activity during the workday to combat the negative effects of prolonged sitting and improve employee productivity. As a dealer, it is essential to stay ahead of this curve. AJ Products can help you create well-planned, healthy work environments completely customised to every business.
There is extensive research to suggest that a sedentary lifestyle can lead to health conditions including obesity, type 2 diabetes, cancer, heart disease and musculo-skeletal problems. Given the long hours many adults spend sitting down while at work, it is essential to combat this issue in the workplace. Standing up for just three hours a day every day burns 750 calories a week and is the equivalent of running about 10 marathons a year [1].
AJ Products thinks staying fit and healthy should be something that anyone can do. Our affordable sit-stand desks and active office furniture encourages office workers to get fit at their desks. Plus, we have just launched a unique height-adjustable meeting table for productive standing meetings. At AJ Products, our complete office solutions make sure staff never sit still at work. We can help you make any workplace happier, healthier and more active!
For more information on how we can support your business, visit www.ajproducts.co.uk or call us on 0800 634 4369.
[¹] Source: BBC News (2016) Calorie burner: How much better is standing up than sitting?