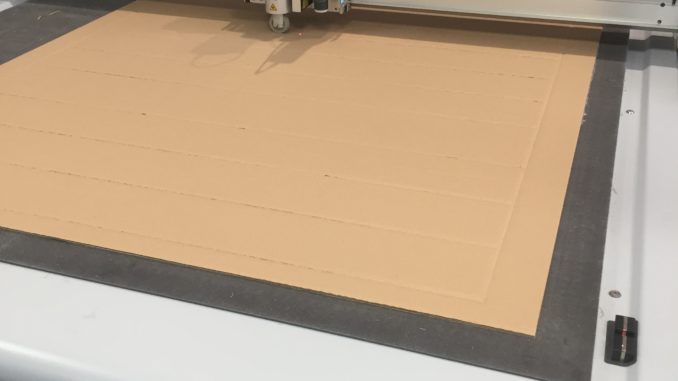 With ambitious plans for its packaging division, Antalis has transformed its offering with the addition of a new state-of-the-art cutting table at the company's head office in Coalville. It marks a bold step forward for the business; Antalis has invested a six figure sum in a brand new Zund high-performance cutter G3 L-2300 – a dual module cut and crease cutting table featuring a maximum cutting size of 1800mm x 3200mm.
The new industry-leading kit – available for use from 1 July – means the Antalis team can now create live samples for new and existing customers on-site to show how their packaging will look and bespoke packaging samples can be turned around in just 24 hours.
Establishing Antalis as a packaging manufacturer for the first time, the new cutting table means the company will also own the intellectual property rights to its own designs, which for customers means a simpler, more streamlined process of packaging design and production.
John Garner, head of business development for packaging at Antalis, commented: "This is a significant investment in the future of our packaging division, which will essentially establish Antalis as a packaging manufacturer and gives customers the peace of mind of knowing all their packaging needs can be taken care of under one roof. In recent years, we've seen more and more businesses explore ways to wow their customers through practical, innovative and visually-striking packaging.
"Our new cutting table has made the process of creating this bespoke packaging a whole lot quicker and slicker as our team of over 15 packaging experts can now sit down with busy customers and bring their concept to life within a matter of hours. We'd urge all customers, new and existing, to take advantage of this fantastic new service offer."