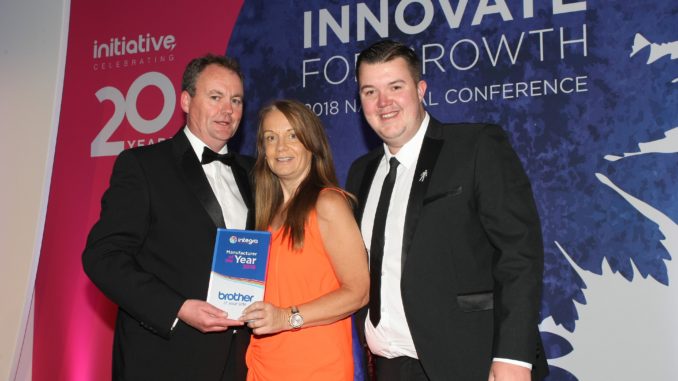 Integra has named Brother UK as its Manufacturer of the Year, as voted for by Integra members. Sara Diggle, head of reseller sales and Chris Grimshaw, senior internal account executive, collected the award on behalf of the team at Brother UK during Integra's Innovate for Growth Gala Dinner and Awards evening last week.
Brother UK was shortlisted for this award based on its innovative products, excellent communication and promotional activity together with a superior level of customer service and support.
Diggle commented: "We are delighted to have won this award and on behalf of everyone at Brother UK, I would like to say thank you for voting us Manufacturer of the Year 2018. We value the relationships we have with our partners and are committed to delivering a wide range of product solutions alongside excellent service and support, so it is fantastic to be recognised by Integra and its members".
Neil Basham, Integra's purchasing director, added: "Congratulations to everyone at Brother UK and thank you on behalf of the group for your continued support. This award and the members' feedback highlights the hard work put in by all the team at Brother UK and endorses not only the products but also excellent customer service levels and proactive marketing support."
Don't forget to follow Dealer Support on Twitter!