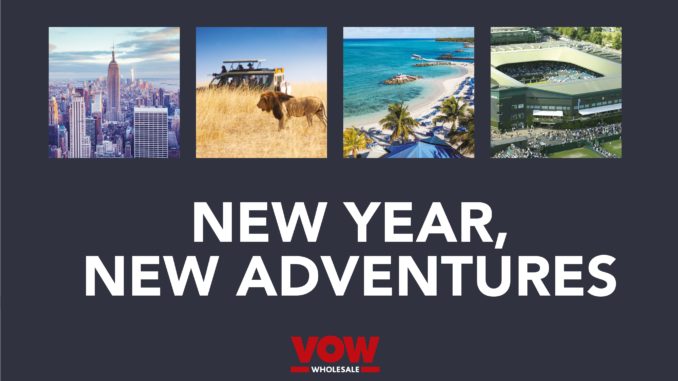 VOW Wholesale's half one incentive is back for 2020 and, this time, it's taking bespoke to a whole new level. With more supporting brands than ever before, this incentive is exclusive to all VOW Wholesale Venture resellers who now have even more chances to win their choice of multiple luxury prizes! In order to offer more chances to win, these once-in-a-lifetime prizes have been separated into four levels – platinum, gold, silver and bronze – each with their own associated brands.
In order to win, all resellers need to do is drive sales of the relevant brands. At the end of the incentive period, the reseller that overachieves their target by the highest percentage for each supporting brand will get to choose a luxury prize.
There are many exclusive prizes up for grabs that will allow you to tick something off your bucket list. You can choose to take two business class flights to a destination of your choice, a luxury safari in South Africa, or maybe you simply want to relax and unwind with a European city break in Barcelona or Paris!
From Michelin-star culinary escapes to a VIP centre court Wimbledon experience or a London theatre break, you'll be spoilt for choice with the prizes available. Make sure you give yourself the best chance of winning by starting to drive your sales of supporting brands today!
2020 marks the third consecutive year VOW Wholesale has run the ADVENTURE incentive and this year the incentive will continue to turn dreams into reality. During 2018 and 2019, VOW Wholesale Venture reseller sales increased by up to 22% across the supporting ADVENTURE brands with customers motivated to get their hands on a unique luxury getaway bespoke to them.
Winning resellers can utilise their prize as they wish. Last year after discovering they had won, Clares Office Supplies raffled off the prize to raise money for two great causes, Simon Says (www.simonsays.org.uk), The Red Lipstick Foundation (www.theredlipstickfoundation.org) and Bong.
As the ADVENTURE incentive launches for 2020, it enters the new decade going above and beyond to bring even more luxury and indulgence to the forefront of all prizes.
Promoting each brand and keeping track of progress couldn't be simpler. Reseller targets and updates can be accessed easily via the bespoke website, www.vowventureincentive.co.uk. Here you can also find more information about the incentive and prizes as well as links to marketing materials professionally designed to help increase sales for each supporting brand.
VOW Wholesale Venture resellers can expect to receive the exclusive ADVENTURE launch brochure through the post in the near future, with more information about the prizes and the supporting brands that need promoting. The supporting brands for 2020 are Acco, Kimberly-Clark, Henkel, 3M, BIC ®, Fellowes, Exaclair, Avery, Q-Connect Toners and Nestlé Professional.
If you would like more information about this incentive, please visit  www.vowventureincentive.co.uk or get in touch with your VOW Wholesale contact.
Don't forget to follow Dealer Support on Twitter!