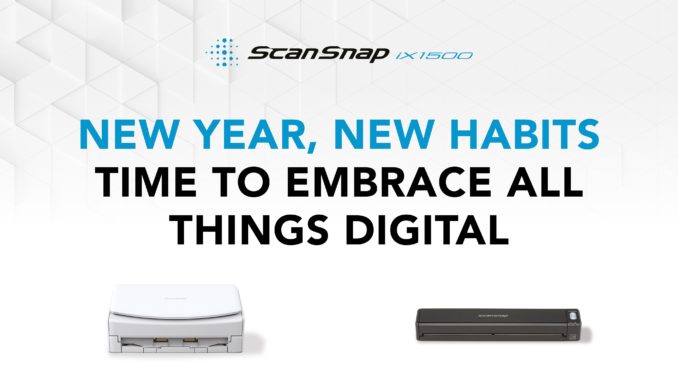 PFU EMEA's (a Fujitsu Company) super successful ScanSnap iX1500 promotion has made a comeback for 2020! As of 6 January 2020, your customers can get a free ScanSnap iX100 mobile scanner with every ScanSnap iX1500 one-touch scanner – how's that for a great start to the new year?
ScanSnap iX1500
The ScanSnap iX1500 is the flagship model of the ScanSnap series; it digitises large volumes of documentation quickly, improving productivity and efficiency, allowing any business or individual to focus on what matters most. What's more, using the iX1500 is incredibly simple thanks to wireless connectivity, an intuitive touch-screen ScanSnap Home software hub. The device adapts to the preferences required and evolves as the user does, enabling smarter working.
Product features:
Great for both personal and sharing use
30 ppm colour scanning
50 sheet automatic document feeder
Dust detection and streak reduction
Scans wirelessly to a PC, Mac or smart device
Wi-Fi connection allows scanning straight from the ScanSnap to the cloud without your PC, Mac, iOS or Android device
ScanSnap iX100
The ScanSnap iX100 is a battery-powered wonder which makes scanning mobile. Whether scanning receipts, contracts, recipes, or plastic cards, the iX100 brings mobility and wireless scanning to your PC, Mac or mobile device.
Product features:
One-button searchable PDF creation
Scans a colour document in 5.2 seconds
Built-in GI microprocessor
Scans wirelessly to a PC, Mac or smart device
Scans two small documents at the same time
ScanSnap Cloud – takes paper directly to your cloud.
Why scanning is beneficial for any business
Paper
"One reason to scan is the issues that come with paper," says Andrew Cowling, senior channel marketing specialist at PFU (EMEA). "The cost of paper itself, the cost of storing it, the cost of printing and some of the indirect costs such as time wasted printing off and collecting a piece of paper, putting it in an envelope and posting it. Dealers selling to accountants, solicitors and estate agents can utilise the angle of them being able to respond a lot quicker to customer requests."
Security
The paper issue leads into another huge driver – security. "People not knowing where data is within an organisation, or how many people have access to that, is a problem," Andrew continues. "If you've got loads of HR records or invoices in a filing cabinet it's cumbersome, time-wise, to file them in the first instance and at a later date to have to find them. There's also the question of how many people could potentially see something they shouldn't see, and how many copies of that document exist." This ties into GDPR, as revised rules include organisations having to find any information requested by a customer within a month, and that customer having the right to have any information on them destroyed.
Audit trail
"Scanning not only allows you to create something that's searchable," says Andrew, "but gives you a complete audit trail where you can see exactly who's edited the data, who's seen it, where it has been sent and even who has printed it out. It also offers the guarantee that your data will continue to exist even if the worst happens and the office burns down."
Understand the scan opportunity with Fujitsu's enablement platforms
Fujitsu's award winning Imaging Channel Program allows you to download a comprehensive toolkit to help you raise awareness and market this new promotion to your customers and prospects; the kit contains adverts, banners, emails, web assets, social media assets and videos. Sign up today and additionally access a wealth of enablement resources you need to embrace today's new market dynamics and capitalise on the resulting business opportunities.
Sign up to Imaging rewards and, additionally, get rewarded for your ScanSnap sales
Participating in Fujitsu's Imaging Rewards scheme gives you the ability to turn sales and commitment into the rewards you really want; simply log your sales, collect points and exchange for prizes. You're already selling the units, so why not make the most of those sales?
For more information and to sign up to both platforms, visit www.imaging-channel-program.com.<box out>
Don't forget to follow Dealer Support on Twitter!