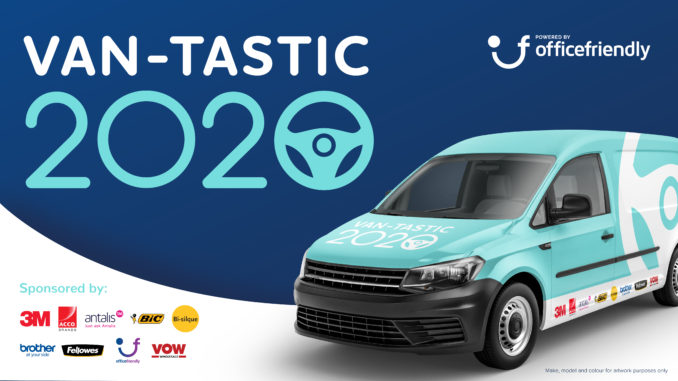 After the success of Van-Tastic 2019, dealer group Office Friendly has announced the launch of Van-Tastic 2020
The industry leading incentive is back for a second year and sees Office Friendly members collect tickets and boost their sales to enter the Van-Tastic 2020 prize draw.
The 2020 incentive will be supported yet again by 2019's eight sponsors – VOW Wholesale, Brother, Fellowes, BIC, ACCO, 3M, Antalis and Office Friendly – and also welcomes visual communications brand Bi-Silque as its ninth sponsor. Tickets are earned by engaging with participating suppliers, boosting sales and holding blitz days; the more tickets a dealer earns, the more they increase their chances of winning a new electric van to add to their fleet.
The prize draw for Van-Tastic 2019 was held at Office Friendly's Entrepreneurs Festival at Carden Park, Cheshire last month. The draw was led by MD Julie Hawley with the assistance of Craig Noyle from the South African dealer group Inovocom who helped with the mechanics for the competition. Bedford's Springfield Business Supplies took home the grand prize of a Nissan Electric van, other prizes included a Sony HD TV and iPad, won by Commercial and A4 Office respectively.
The Van-Tastic initiative has been well received by suppliers and dealers alike. "Van-Tastic has been a huge success for us, our key partners, and our members too. We've witnessed tremendous enthusiasm from all parties," said Hawley.
Sara Diggle, head of SMB laser business unit at Brother said: "The Office Friendly Van-Tastic incentive has provided Brother with a platform to have deeper engagement with their dealers. We have seen the level of motivation to receive reward tickets grow since launch, which has enabled us to be front of mind when considering print across the membership."
Members will find out how they can earn tickets from quarter to quarter to gather as many tickets as possible from the nine participating sponsors. The more tickets members have, the more chance they have of winning the grand prize which will be drawn at Office Friendly's Entrepreneur's Festival 2020. See how you can get involved visit officefriendly.co.uk or get in touch with [email protected].