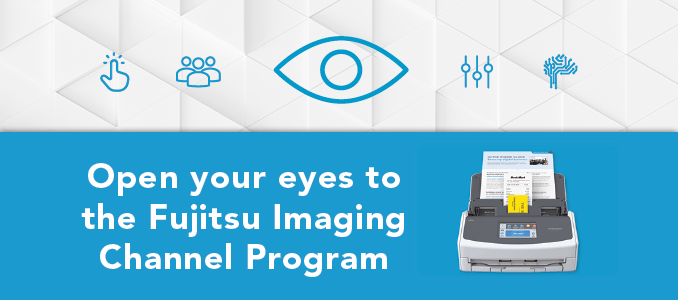 Sponsored
As a leader in the imaging market, Fujitsu identifies the business trends and industry drivers that create new opportunities for its partners. By joining the Imaging Channel Program you will gain the insight, expertise and access to resources you need to embrace today's new market dynamics and capitalise on the resulting business opportunities, as well as help with:
Communications
Sales and marketing support
Commercial Support
Training and education
Business support
Discover the brand new fi-800R
Fujitsu is ideally positioned to help dealers break into some of the biggest markets for scanning, including legal, financial, healthcare and education. On 8 October, it launched a new scanner which has a different concept to traditional flatbed scanners and will be ideal for any customer-facing front desk environments where there's a need to scan documents quickly and reliably. It will help deliver a seamless and secure customer experience in locations like banks, hotels, car dealerships and hospitals.
"It's ideal for anywhere there's a need to capture ID off people – it's a very exciting product with a remarkably small footprint and will open up a number of opportunities and conversations with dealers existing and new customer bases," says Andrew Cowling, senior channel marketing specialist.
"Access a toolkit on this new model today by signing up to Fujitsu's Imaging Channel Program"
Additionally dealers can also get involved with the opportunities afforded by Fujitsu by accessing a wealth of material to help understand and better position the scan opportunity, upskill staff and boost their business.
Take advantage of product and promotion toolkits, insightful webinars, scanner configurators and co-brand marketing material. Those signed up will also receive regular email comms which will notify about new products, promotions and events – including a major channel conference coming up in February.
Imaging rewards
Participating in Fujitsu's Imaging Rewards scheme gives you the ability to turn sales and commitment into the rewards you really want; simply log your sales, collect points and exchange for prizes. Browse a comprehensive range of products and experiences and even email the concierge service for more bespoke rewards.
Remember, all you have to do to enter the draw is sign up to Imaging Rewards – after all, you're already selling the units, so why not make the most of those sales? It's free to sign up, so visit
www.imaging-channel-program.com
and sign up to both platforms today.
Don't forget to follow Dealer Support on Twitter!