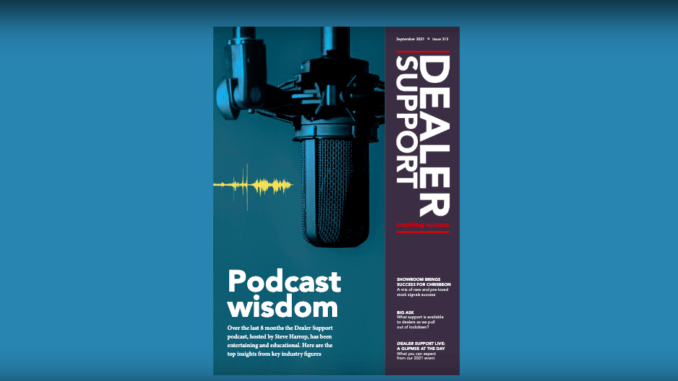 The September edition of Dealer Support is now live and ready to read!
The nights are beginning to draw in and autumn is fast approaching, officially signaling the end of summer. This summer was another strange one; despite restrictions being lifted it still didn't feel like the summers we used to know. With many events still not going ahead, foreign holidays being marred by thoughts of testing and quarantine, and the sun struggling to break through the clouds most days – it certainly didn't feel like a proper summer much of the time. However, I hope most of you got to enjoy a break at some point, whether that be a staycation, day out or simply an afternoon in the garden when the sun did decide to put its hat on.
We kick off this issue by looking at some of the highlights from our podcast, Dealer Support: TUNED IN, which features industry giants such as Raj Advani, Mark Wilkinson and Aidan McDonough. Fujitsu put their party hat on to celebrate the 20th anniversary of the ScanSnap range and we take a look at why both the pre-loved and the brand new can bring success.
Talking of new and old, we've all had to adapt to news way of living and working over the last 18 months but, as restrictions have lifted, we are finally able to return to some of our old lifestyles – such as returning to the office. So, what do employees now need in the office? We take a look!
One of the most exciting articles in this issue (although we may be biased) is a glimpse of what you can expect from Dealer Support LIVE 2021. We can't wait to see you all, and welcome you back for one of the first face-to-face events for all UK dealers – we promise we'll be back with a bang! We have a stellar line-up of speakers we'll be announcing very soon!
Wrapping the issue up we give you well-earned break with our LIVE IT section – which includes the good Father enjoying a heatwave and Emma Davies-Carolan who provides our FINAL WORLD in a reflective piece discussing the highs and lows of the pandemic and how it created new ways of operating for dealers.
As always, don't forget to chat to us on Twitter and let us know your thoughts and opinions: @dealersupport.
Ellie Potter
Acting editor