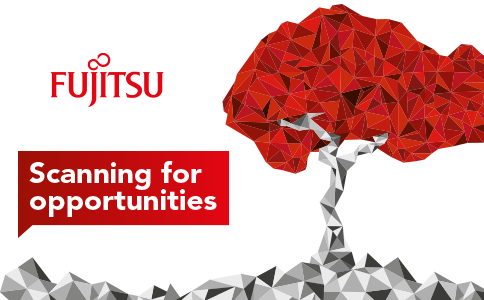 Scanning and document capture is an ideal product extension for dealers given the continuing digitalisation of workplaces and the upcoming GDPR deadline. Austin Clark finds out more about the opportunities on offer from Andrew Cowling, business development and channel marketing specialist at Fujitsu.
Despite the talk over the past decade and more of paperless offices, printed documents are still an integral part of today's workplace. However, traditional paper-based processes are being put under pressure by the uptake of digitalisation – driven by the likes of GDPR and the need to secure data – as well as employees demanding the right to work remotely, and be mobile, and the need to boost productivity and cut costs. As a result, more organisations than ever before are turning to the power of scanning and digital document management – creating a wealth of lucrative sales opportunities for dealers.
"Scanning solutions are a great way to remove customer pain points, which makes them an ideal sell for forward-thinking dealers who are in constant dialogue with end-users," explains Andrew Cowling, business development and channel marketing specialist at Fujitsu. "Customers are demanding faster access to their information and ever more rapid responses when contacting customer services. Digitalisation via scanning and the correct software solutions allows this to happen, helping businesses to find ways to differentiate themselves and stay one step ahead of the competition.
"Another positive point for dealers is that, historically, scanning has always been aimed at organisations that are heavy paper users – the public sector being a good example. However, today's business pressures, coupled with devices that have become more the domain of the desktop rather than a dedicated back office, mean business of all sizes can benefit from scanning. These devices – such as Fujitsu's ScanSnap range – are intuitive, easy-to-use straight out of the box and bundled with an array of productivity enhancing software. This has changed the game for dealers – 99% of European businesses are SMEs."
Andrew says that digital transformation has been around a while but only now is it starting to come more to the fore within SMEs which are looking at ways of becoming more efficient, working smarter and saving money. He points to several advantages to scanning documents and merging them with digitally-born material, all of which can be used by dealers to open up a conversation with customers around document scanners and the need for a dedicated scanning device. These include:
• Save money
• Productivity gains
• Collaboration
• Easy organisation
• Smarter working
• Free your space
• Disaster recovery planning
• Deterioration of quality
• Efficient retrieval
• Legal admissibility
• Document and records retention
• Greener
• Customer satisfaction
"As well as those benefits listed above, the cost of paper and print is increasing too, putting further pressures on paper-based processes," adds Andrew. "If a business factors in the indirect costs of print, such as the time taken to find and retrieve a document from a file versus a quick, online search, the case to switch to a digital process is compelling – as is the case for using dedicated scanners over MFPs – but that's a topic for another day!"
GDPR drives digitalisation
It has been hard to ignore the fact that the GDPR compliance in May 2018 is nearing – and Andrew says this major data security drive is encouraging more businesses to go digital with their documents.
"Focus is often placed on cybersecurity threats, server hacks, database vulnerabilities and data stored on, and transmitted between, servers and networks. Often, though, paper documents, records and files are being severely overlooked.
"Duplication of documents, and subsequent human handling, can lead to a complete lack of document control and data breaches. Paper-based documents are more prone to human errors of misjudgement and can, very quickly, get into the wrong hands. Scanning allows organisations to take complete control of data by scanning, digitising and working online with Fujitsu scanning
solutions. Document security can be locked down to only relevant staff and a complete audit trail comes as standard, with retention periods adhered to from day one."
Look out for more GDPR-focused advice from Fujitsu on the Dealer Support website.
Boosting dealer business
There are clearly plenty of compelling reasons why scanners are an ideal addition to a dealer's portfolio – and there are plenty of sales messages to take out to customers. Further sales support is available through the Fujitsu Imaging Channel Program (www.imaging-channel-program.com) which has been designed to help partners:
• Realise the full potential of the imaging and digitisation market
• Sharpen your competitive edge
• Open new doors, close more deals and drive margins
• Connect with Fujitsu's imaging partner eco-system
• Differentiate your business
"Fujitsu is the leader in the imaging market and so are best placed to identify the business trends and industry drivers that create new opportunities for dealers," says Andrew. "By joining the Imaging Channel Program, dealers will gain the insight, expertise and access to resources needed to embrace today's new market dynamics and capitalise on the resulting business opportunities."
Webinars, co-branded brochures and other marketing materials, product toolkits, product selection configurators and even automatic social media content are available. There's also exclusive access to
Fujitsu's special promotions and its sales lead pipeline, making it a must-have for all dealers. Training modules on their ranges and positioning, informative and helpful webinars, partner conferences and knowledge-share events further add to the appeal. Dealers can sign up for free by completing the simple registration form at www.imaging-channel-program.com.
"Fujitsu's commercial support is designed to open up new business opportunities for dealers," adds Andrew. "From a dedicated Fujitsu account manager, to expert presales and bid support, Fujitsu provides all of the resources needed to achieve business growth. We see our Imaging Channel Program as a partnership; if we can grow sales for dealers, we win too. The sales opportunity is a huge one that simply can't be ignored – that's why we look forward to working with many more dealers over the coming months and years."
Rewarding dealers
Recognising the hard work dealers put into selling their solutions, Fujitsu offers dealers its Imaging Rewards scheme; this allows sales and commitment to be turned into a choice of rewards, including:
• The latest electronics – such as TVs, tablets and headphones
• Luxury holidays – such as trips to the Maldives and European getaways
• Exciting or relaxing experiences – such as white-water rafting and massages
• Fashionable accessories – such as smartwatches and the latest handbags
Dealers can build towards the rewards of their choice in many ways:
• Logging sales of Fujitsu Imaging products
• Participating in Fujitsu activities and events
• Certifying in any of four specialist areas
• Participating in a range of product line promotions, incentives and special points giveaways
• Registering – a welcome bonus of 1,000 points is on offer
• Referring colleagues and partners to sign up
• Downloading the Imaging Channel Essentials app that allows dealers to view Fujitsu's product portfolio, stock information, download collateral and view rewards points status.
Pull quote
…the case to switch to a digital process is compelling
More organisations than ever before are turning to the power of scanning and digital document management – creating a wealth of lucrative sales opportunities for dealers.
Contact:
www.imaging-channel-program.com
http://emea.fujitsu.com/scanners
+44 (0)208 573 4444
scannersales@uk.fujitsu.com
PFU (EMEA) Limited – A Fujitsu company