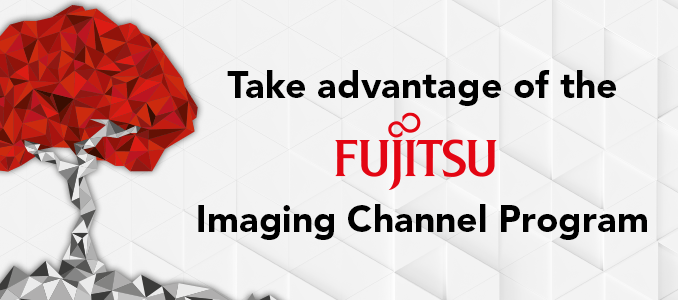 Sponsored
As a leader in the imaging market, Fujitsu identifies the business trends and industry drivers that create new opportunities for its partners.
By joining the Imaging Channel Program you will gain the insight, expertise and access to resources you need to embrace today's new market dynamics and capitalise on the resulting business opportunities.
Communications
From advanced notification of product news, promotions and hosted events, you'll not just be in the know, but also the first to know – giving you the insights to stay ahead of your competition.
Sales and marketing support
As well as exclusive access to Fujitsu's special promotions and our sales lead pipeline, you'll get practical support that includes Fujitsu Specialist logos, funded case-studies, co-marketing agreements and MDF – all designed to strengthen your sales.
Commercial support
Fujitsu's commercial support is designed to open up new business opportunities – it includes use of their business facilities plus access to their evaluation program, their not for resale program and their supported pricing program.
Training and education
Keeping you in the loop and ahead in your field, Fujitsu provide you with exclusive content, co-brandable marketing assets, scanner configurators, training modules on their ranges and positioning, informative and helpful webinars, partner conferences and knowledge-share events.
Business support
From a dedicated Fujitsu account manager assigned to your business, to expert pre-sales and bid support, Fujitsu equip you with the resources you need to achieve business growth.
For more information, visit www.imaging-channel-program.com
Imaging rewards
Participating in Fujitsu's Imaging Rewards scheme gives you the ability to turn sales and commitment into the rewards you really want; alongside accumulating points for every sale logged Fujitsu has recently launched its new 1, 2, 3 Draw which gives dealers the chance to win one of three amazing prizes – you can even create your own prize!
The 1, 2, 3 Draw awards you between one and five tokens for every third unit sold within the same scanning category. The number of tokens you receive increases for higher-value units – and, the more tokens you earn, the higher the chances of winning!
Remember, all you have to do to enter the draw is sign up to Imaging Rewards – after all, you're already selling the units, so why not make the most of those sales? It's free to sign up, so visit www.imaging-channel-program.com for your chance to win big.
Don't forget to follow Dealer Support on Twitter!