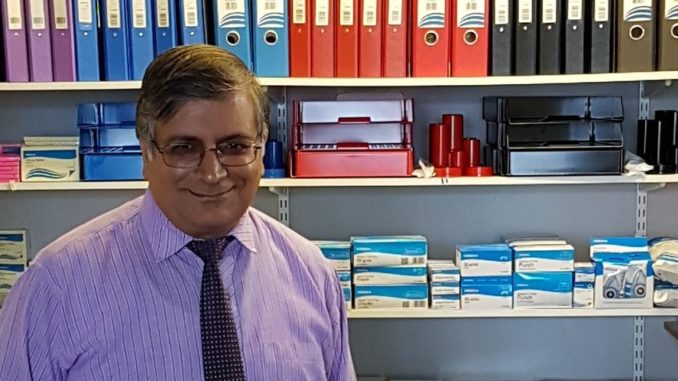 An award-winning, family-run office supplies firm is opening a stationery store for start-ups and small businesses at the new Desk Team Business Centre facility in Beckenham on Friday September 22, 2017.
The new Desk Team facility will offer local businesses a wide variety of working spaces, including virtual offices, co-working and networking opportunities on flexible 30-day monthly memberships. Based at Inspiration House, 38 Croydon Road, Beckenham, the Desk Team centre has 10,000sq ft of space to suit businesses of varying size.
Desk Team's MD, Sharon Millar, said: "The building has sat empty for a number of years when it could have been used to help startup companies. I've pulled a lot of favours and I've also taken out personal loans to get this project working.
"We have a great resource of specialist companies locally that all need to be doing more business with each other. Our two-minute walk from Elmers End tram and train station is the perfect location. This building has a great name and a great energy!
In their new stationery 'tuck shop' Tangent Office Resources will sell everything a small business might need, from essentials such as pens, paper, staplers and hole punches to filing and storage products.
Tangent MD, Chandra Sharma, said: "It's an exciting project for us as it's really going to help the smaller start-up businesses. All items stocked at the Business Centre will be the Initiative and Q Connect brands because they give small businesses the best value for money without comprising on quality.
"We are splitting packs so that the businesses can buy just one pen, one Post it Note pad, one ream of paper; or whatever they need. As they grow, we can introduce them to our standard size packs where they can make even greater savings."
Tangent Office Resources was founded in Orpington in 2005 and offers an extensive range of office supplies, equipment, furniture and printing services to businesses and residents across England. They have recently extended their range to include personalised workwear, having invested in state of the art embroidery and vinyl printing machines.
The firm won the Greater London region Family Business Award in this year's FSB & Worldpay UK Business Awards, as well as being commended for their service in the FSB London Awards. They were also named service sector finalist in the Orpington Finest Awards 2017.
As part of their corporate social responsibility, Tangent Office Resources will be holding its fourth annual MacMillan Coffee Morning on Friday September 29 at its Orpington store, 32 Chislehurst Road, Orpington, 10am-4.30pm. Everyone is welcome and visitors can sample the 'Fake or Bake' cakes in return for a small donation to MacMillan Cancer. Last year's Coffee Morning raised £513.87.