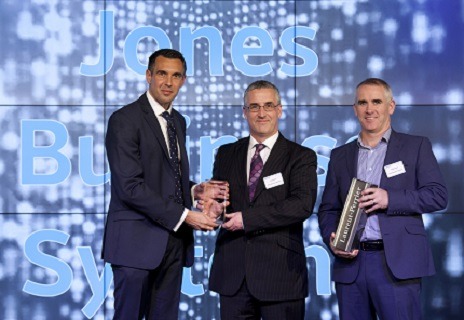 Jones Business Systems was recently named Samsung Print Dealer of the Year for the fifth year running. Sean Jones, managed services director at the Irish dealer, tells Austin Clark about their award-winning partnership.
Tell us more about Jones Business Systems and how Samsung's print solutions fit into your overall business
Jones Business Systems has looked after the needs of offices, schools and businesses since 1986. Our mission is to save our customers time and money by supplying everything they need to keep their organisations operating efficiently, while offering the best possible value for money. This includes office and school supplies, furniture and print, which is a growing success story for us.
We credit our ability to succeed over the long-term to our move into new areas as the world of business and technology evolves. Having started with three people over 30 years ago we developed into a multi-discipline team of over 50 with specialists in the areas of education, interiors, hygiene and facilities management, managed IT services and managed print services. This, coupled with completing six acquisitions over the past number of years, means we can bring a wide range of products and services to a broad geographical customer base.
When I think back a few years, print was a just small part of the overall IT and office supplies business but, as the technology has developed and ways of working have changed and become more digitally-focused, it has grown to be an integral part of most businesses and so is a significant portion of the overall ICT offering. We recognised a gap in the market for well-serviced, flexible agreements that allow the user to chop and change their equipment as their needs change.
We partnered with Samsung five years ago and have had a very close working arrangement since.
Why did you choose Samsung?
We didn't want to feel like just another small cog in a very big wheel, so the opportunity to work directly with the manufacturer, and to be at the heart of the marketing, made Samsung an attractive proposition. The volume of product information we can get our hands on as a result of this relationship allows us to deliver a much more positive sales' experience for our sales staff and more confidence for our customers when they're investing in new technology.
What are the secrets of your success?
Without doubt it's all about consistently high levels of customer service and leveraging all available technology to make it happen. We are also strong believers that people buy from people, which is why we work to build relationships with our customers. Trust is an important attribute in business and helps you to grow with your customers and cross-sell more as your product selection widens.
Most dealers talk about service as being their most important attribute – how does your service stand out from others?
We recognised early on that technology should and would be a key part of our offering. We linked up with Print Audit – the print-focused software company – so that we could monitor all aspects of our fleet all the way through from toner requirements to major service needs. This means that we can deal with any requirements or issues before they become customer problems. It's all about making our service trouble-free and easy for our customers.
Our toners are dispatched just-in-time, without the customer needing to call in to order them. This has substantial benefits on stock holdings and eliminates wasted stock on sites. We also maintain an IT helpdesk in-house and have our own engineering team, which most dealers don't have, so that we can solve problems at both ends of the print experience.
How do you ensure you understand your customers and what they want?
First of all, we listen. We let the customer tell us what their problems are before we offer a solution. Each customer has different requirements and an onsite survey is conducted on each sale to ensure the proposed solution is the correct fit. That said, we realise that businesses change, so we make a point of offering flexible agreements that allow us to change hardware and software, if needed.
Our close relationship with Samsung helps with this as we can call on their support if we need advice in developing the perfect solution or recommending specific technology or dedicated, app-based print solutions.
What advice can you share with other dealers thinking about partnering with Samsung?
Nothing compares to dealing directly with the manufacturer. Standard distribution relationships can leave you out of the loop on major trends and developments in the industry. Samsung invests heavily on keeping us 100% up-to-date and central to those efforts is their dedicated regional representative, Conor Poole. We have worked hand-in-glove through all of our substantial growth over the past five years and his advice and support has been key to the significant market share we have grown together.
Samsung also works hard to improve, upgrade and evolve its technology so there's always something extra and new to talk about and offer to customers.
So, what would you say is the main secret of your successful partnership with Samsung?
Again, it's all about information and working with Conor and Samsung in such a close way has guaranteed our success.
It's a rare relationship where a dealer can have regular contact and even site visits by the head of UK and Ireland Print, as well as delegations from Samsung in Korea, who are genuinely interested in how they can help us to help them, and vice versa. We've grown our business as a result of this support. That says it all!