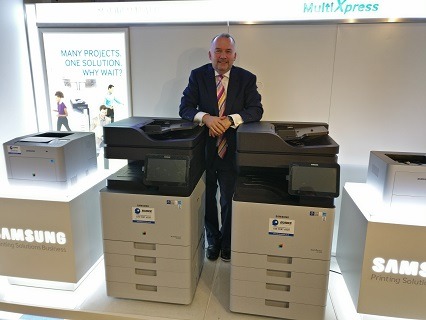 Burke Systems is successfully growing its business by working closely with Samsung. Michael Burke, MD of the Belfast-based business, tells Austin Clark more about their successful partnership
How long have you been working with Samsung?
Our partnership dates back to 2013. I actually had a conversation with another dealer at another vendor's conference over a coffee and the rest is history! Working with Samsung was always in the back of my mind though. Choosing who to partner with is a massive decision so, wherever possible, I'll try to go on personal recommendations or experience rather than hearsay. As well as that dealer's thoughts, one of our engineers suggested we work with Samsung as their spare parts response was so impressive. That gave me real confidence and it was a good time to take the plunge.
How has the relationship developed over the last four years?
As with anything new there were a few teething troubles but we persisted with the products and it has all worked out well. In those four years there have been at least four new A3 product launches and we're now really benefitting from that innovation. The latest, state-of-the-art, smart devices can offer so much to businesses and really change the way they work for the better.
I also really appreciate having the support that we do in Ireland. Samsung has a technical manager for Ireland who is on speed dial if we need any support and there's help available if we need any onsite support with a customer. There are great resources there and Connor Poole, who is Samsung Ireland's sales manager, is constantly in contact, providing sales support and helping us keep up to speed with new product development and solutions.
Some dealers perceive Samsung as being set up to serve only the largest dealers. Is that a criticism you have of them?
I wouldn't subscribe to that suggestion at all. Nobody's perfect and, like any dealer, there are areas where I would like to see them do things differently, but I don't feel that our scale matters. In many ways, because we don't have huge resources, we need to utilise the support on offer more. Our job is to evolve into one of the larger document solutions companies and by working together with Samsung we can do that. People will then be complaining that the smaller dealers get all the help!
Earlier you mentioned Samsung's constant innovation. As you're trying to grow your business, do the two go hand-in-hand?
I wax lyrical about Samsung's innovations and one of the footnotes I always put on my proposals is about how innovative they are. We had a Samsung Technology Day earlier this month that will espouse the app development and solutions. It's clever stuff and it's my belief that they've sent shockwaves through the industry by doing what no-one else has come close to. They've used all of their technological prowess from across the company, which means more solutions are available to more businesses.
We see their solutions and their products as a massive differentiator and that gives us something to talk about. In a market where customers are already so well-versed in the standard technology, the product has become commoditised. Samsung's innovation steers conversation in a different direction and away from price. Perception plays a big part when it comes to value and Samsung's name and reputation makes it easier for us to sell, without a doubt.
How do you get the message across about the innovations and your Samsung partner status?
We do use social media throughout the day, especially Twitter and LinkedIn. You have to have a different mindset when using social media compared to other forms of marketing. You used to send out 10,000 emails and get a 3% response rate but you can't work like that now. It's more subliminal. You don't get a business responding to a tweet saying, 'I like that printer, can I have one!' but, next time there's a need for a printer, we'll be at the forefront of their minds. While you can't quantify the success, we know it's working.
Through our marketing we also leverage the Samsung brand name, which is massive. We try to associate ourselves with the brand as much as we can because of the obvious benefits.
Would you say your partnership with Samsung is a successful one?
Absolutely I would. We love the products and getting out of bed in the morning is exciting. The potential is unlimited, in my opinion, because I think the Samsung brand is under-represented in a market where others are over-represented. The innovation is there, the solutions are there – and we're confident that, together, the future is bright.