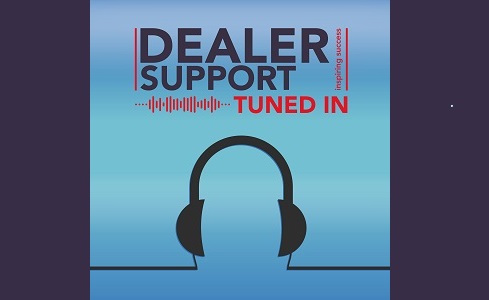 Over the course of this year, listeners to Dealer Support's podcast have received the benefit of the wisdom of some experienced players in the industry – here are some of the highlights.
Some of the great and good of the office supplies world have been interviewed for Dealer Support's podcast, Tuned In, this year by Steve Harrop; they have covered a wide range of topics in that time, from the pandemic, to the changing sector, to what the future might hold.
For instance, in February's podcast Raj Advani, ex-managing director of Exertis Supplies, advised dealers to spread their risk, and not commit too much spend to one wholesaler. "To me, that is inherently risky," he said. "We have been saying for a long time there should be more competition in the distribution model. Coming from an EOS background, we have been in a very low margin business with lots of competitors and you have to fight every day for your share. Since we entered the office products arena, it is a slightly different model where dealers seem to give five-year contracts to one wholesaler, guaranteeing 80% of their spend. That makes the wholesaler king and not the customer, and I have always believed the customer should be king.
"It breeds complacency; the wholesaler doesn't have to work to get your business – they have already got it so they can do what they want with the price, they can limit the range, they can change it."
The market, and its relationship with wholesalers, is changing, as Mark Wilkinson, Acco's regional vice president, UK & Ireland, outlined in March. Back in 2009-10, after the financial crisis, Acco in Europe decided to simplify its market strategy and stepped away from the dealer community. However, the company has now reversed that policy.
The reason behind the move, Mark explained, is that wholesalers generally only carry about 20% of Acco's portfolio of some 5,000 products, and some dealers want to source other Acco products directly from the company in order to complement their wholesale sourcing strategy.
Mark is careful to emphasise that this move isn't about taking business from wholesalers, but complementing it. "We are trying to ensure that the wholesaler sells the products they stock and market on our behalf – but the other 80% of products are available to our dealers at a competitive price, with the right content, the right data and the right service level."
Always learning
Being in business is about learning, and this is something that Mike James, managing director of Dundale Associates, and non-executive chairman of Prima Software, has done throughout his career. Today, Mike says he learns a lot from Ian Buckley, managing director of Prima Software. "I am old enough to be his father – probably his grandfather – but I am still learning from him," he said. "He has this brilliant talent…of being a mate to the people who work for him but, occasionally, turning that key and they recognise you are the boss. That's a difficult one to do, but Ian has got that talent. So I am still learning at my greatly advanced age."
Mike believes that senior people in the industry should do what they can to help and mentor young people who are making their way through the ranks. Meanwhile, his top tip for young people starting out in the industry is to get involved with the company they work for, and the industry associations. "If you look at it as just a 9-to-5 job you can do ok, potentially – but get involved and recognise the people who can mentor you."
Attitude
As well as learning, the right attitude is crucial, as Martin Reid, managing director of Egan Reid, explained as he talked about the future of the company. He has the attitude of 'If you need it, we can supply it' and plans to open up supply chains in more new markets, hoping to replicate the success of the PPE lines of last year.
For Martin, it's about constant evolution. "If you have a winning formula, it goes so far, and you have to keep refining it and changing it," he says. "You have to be different and have to have that unique selling point. We just want to be unique, and sell something different, as a lot of the market is the same."
For instance, Egan Reid's acquisition of Todds helped the company move into new markets. "We supplied all the office furnishings but now we are getting involved in fit-out as well. We are doing mezzanine floors, partitioning, air-conditioning, lighting, plumbing – this has added another string to our bow and, with our large database, we can exploit this. It is working well."
Future
Coming right up-to-date, in July's pod Integra Business Solutions' CEO Aidan McDonough looked forward, saying he believes that, as we move to a post-pandemic economic phase, there will be consolidation activity in every part of the office products sector, although this won't be without its difficulties.
"The challenge, moving forward, is how do you value a business, and based on what metric?" he asks. "Even if you are doing forecasts moving forward for the rest of the year, what are you going to take as being indicative? Q1 last year? Q2, which was closed? Q1 this year? There is no comparator in this list that has any basis in reality. I have heard people say, 'Do we go back to 2019?' Is that a like-for-like comparison?'
That's not the only problem which potential acquirers will face, Aidan believes. For instance, when acquirers target a business, they usually want two things; the expertise in the business and the customer base. "This is one of the biggest challenges with M&A activity; in a lot of instances the primary driver in the business is the guy who wants to leave. That's where it becomes difficult to push these through, and you have to be really careful."
Remember, you can still listen back to all Tuned In podcasts at your leisure. Check out the Dealer Support website for more information.