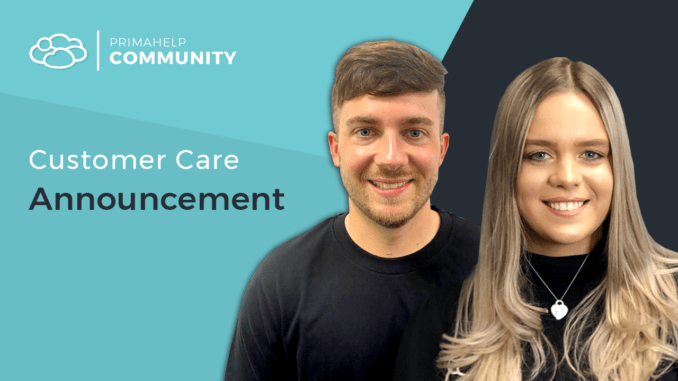 From 1st July 2021 Oliver Rowles will be assuming the role of customer services manager, and Molly Clarke will be taking the role of customer services supervisor
Over the past seven months Prim has invested significantly in it's services department and effectively doubled the size of the team to help deliver the very best service to it's users. With the increased headcount of staff, Prima now wants to evolve and deliver a more focused service, allocating the resource appropriately to ensure it's customer care team provide a more personal partnership.
Customer services director, Steve Dennis commented: "The appointments of Oliver and Molly lay the foundations for a new direction, combining their skill sets of products, customer care and client knowledge, and a real positive attitude towards change, our customers are in great hands.  With our recent recruitment drive and the departmental changes being announced here, I think it's clear we've decided to be bold during a period of industry cautiousness, so that we are in the strongest position to provide quality service experiences to customers when they need us."
Rowles' new senior management role will be working closely with the team to strengthen the partnerships with our customers through positive experiences, increase satisfaction rates. Our account management service will be changing to help deliver more value for our users across the customer base.
Rowles added: "My background has always been to improve customer satisfaction and ensure our Prima dealers are getting the most out of their investment with Prima. Now that I will be transitioning into a customer services manager, my goal will always remain to the same, that our Customers are satisfied with Prima as a product, but now with a key focus on the service that they receive, which I feel has always been a strength of our business and within our industry. I want to take that on to the next level using regular customer feedback and with my enthusiasm! From helping you with day-to-day queries, making sure you are aware of the latest new features and keeping you up to date with our developments behind the scenes, this will be the teams prime focus."
Clarke's new role will use all her experience to improve efficiencies and quality across our telephone, portal, and LiveChat channels. "I am excited for this challenge with my new role. From working more closely with our development team to help improve the escalation process, to being a point of reference for the customer care team, I believe with my experience I can help deliver a faster, consistent and more quality service for our users. I can't wait to get started!"